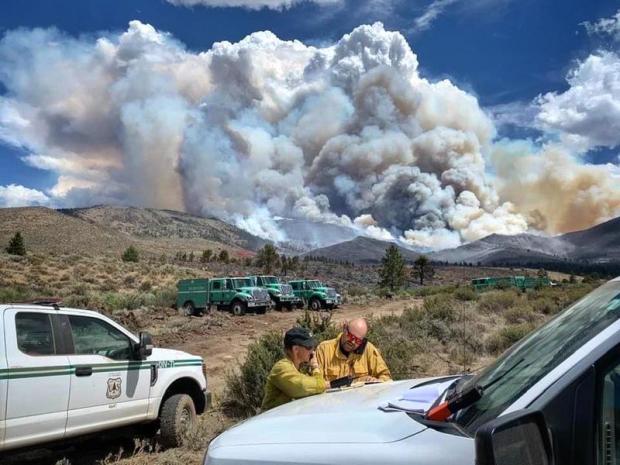 The Loyalton Fire originated east of the town of Loyalton and southwest of Mount Ina Coolbrith and burned north and east adjacent to the areas of Beckwourth Pass and Hallelujah Junction, and south towards Babbitt Peak. The fire is now estimated at 47,029 acres and 90% contained. 
Find a downloadable version of the daily air quality forecast at https://fires.airfire.org/outlooks/CentralSierra
Basic Information
Incident Type:
Wildfire
Cause:
Lightning
Date of Origin:
Friday August 14th, 2020 approx. 04:30 PM
Location:
Northeast of Loyalton, CA
Incident Commander:
Daren Dalrymple
Coordinates:
39.681, -120.171
Current Situation
Total Personnel:
213
Size (Acres):
47,029
Containment:
93%
Fuels Involved:
Timber, sage, tall grass
Significant Events:
Fire behavior moderated today as mop-up has been effective in reducing the heat near the line and unburned interior green islands have been lined. The fire has been wind-tested for three days of W-SW winds up to 30 mph gusts at ridgetops. Some single tree torching on the interior where heavier fuels have built up.
Planned Outlook
Planned Actions:
No night shift tonight. Plans for Day shift on 8/23 includes fire suppression repair in all divisions. Mop-up on southern portion of the fire.
Projected Incident Activity:
Westerly winds at 15 mph and ridgetop gusts to 25 mph. This the third day of strong gusty winds. Very dry air mass will hamper relative humidity recovery tonight which will extend the burning period into the night. Interior burning of small pockets of vegetation could produce some isolated torching. No night shift tonight.
Weather Synopsis
Weather Concerns:
Strong gusty winds, 10-15 with gusts 20-25 mph and low relative humidity are expected to continue into Saturday evening. Later Saturday evening winds will slow but relative humidity recovery will only 35-45%. Smoke from the numerous large fires in California has been impacting the visibility for our incident as well as the surrounding communities in California and Nevada.
Incident Contact
Incident Contact
Fire Information Line
Phone: (530) 362-8282
Hours: 7 a.m-9 p.m. daily
Fire Unit Information
Tahoe National Forest
U.S. Forest Service
13120 Loma Rica Grass Valley California 95945
Nevada City, CA 95959