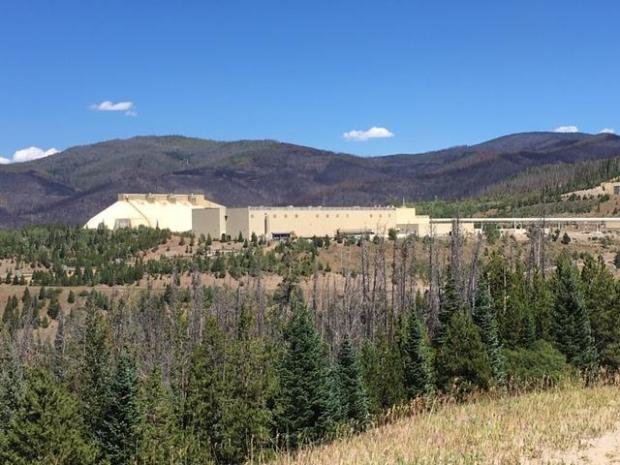 The Williams Fork Fire, seven miles southwest of Fraser, Colorado, started near the Henderson Mill on August 14th and quickly grew due to high winds, steep slopes, and dense fuels.
Working with long term fire behavior analysts, foresters and other natural resource specialists, Williams Fork firefighters successfully contained the southwest flank along County Roads 3 and 30, and the Williams Fork River, preventing damage to the Henderson Mill. On the north and east flanks, firefighters improved roads and other natural features to create defensive lines to protect the communities of Fraser, Tabernash, and Winter Park. 
Recent cool temperatures and snow have resulted in minimal fire behavior, and have reduced the chance for fire growth. However, as temperatures fluctuate, the public should expect to see smoke from within the fire area as pockets of fuel continue to burn. The fire is expected to burn until sustained wetting rain or snow extinguishes it.
There are no evacuation orders or pre-evacuation notices in effect as of September 9, 2020. However, the Grand County Sheriff's Office encourages all residents to be prepared for future emergencies, by signing up to receive emergency notifications for CodeRed alerts.
Closures
The area immediately surrounding the fire remains under a closure order. Williams Fork Fire Closure Order

Hunting impacts
The fire is burning within Game Management Unit 28. Hunters holding licenses in game management units impacted by the fire may be able to request a refund and reinstatement of preference points used to draw the license. For updated hunting from Colorado Parks and Wildlife, visit cpw.state.co.us.

The Fire is under investigation
Trained fire investigators have determined that the Williams Fork Fire started by human activity, but the specific cause is not yet known. 
If the public has any information, images or video of the area that may be helpful to the investigation, please email them to SM.FS.usfsarp@usda.gov.  Information can also be shared by calling 307-745-2392, selecting option 5, and leaving a name and phone number so law enforcement can return the call.
Investigating wildland fires is a legal process that requires the fire cause to remain confidential until the process is complete.  
Basic Information
Incident Type:
Wildfire
Cause:
Human-caused
Date of Origin:
Friday August 14th, 2020 approx. 11:43 AM
Location:
9.5 miles SW of Fraser, CO
Incident Commander:
Ed Leblanc ICT3/Chad Buser ICT3(T)
Incident Description:
Wildfire
Coordinates:
39.851, -106.065
Current Situation
Total Personnel:
56
Size (Acres):
12,320
Containment:
25%
Fuels Involved:
Timber (Litter and Understory)

Primary driver of fire behavior is the lodgepole-spruce-fir stands that have heavy mortality. These stands have abundant lofted dead fuels, and an understory of young conifers. The other primary fuel is mostly intact dense spruce-fir stands with little mortality.
Significant Events:
Minimal
Isolated torching
Backing
Creeping

Planned Outlook
Planned Actions:
Patrol and monitor.
Projected Incident Activity:
12 hours: Sunny with a high around 65 degrees, minimum RH 18%, winds downslope/ downvalley 3-6 mph until 0900, then west 6-12 mph, with gusts to around 16 mph after 1100. Haines of 5.
24 hours: Clear, lows around 46 degrees, maximum humidity of 38%, west winds 10-16 mph with gusts to around 16 until 2300, then SW 5-11 mph. Haines of 5.
48 hours: Mostly sunny until 1700, then partly cloudy. Maximum temperature of 65 degrees, expected RH of 18%. SW winds 7-13 mph with gusts to around 20 mph until 1200, then west 11-19 mph with gusts to around 24 mph. Critical fire weather is likely.
72 hours: Mostly clear. Highs in the lower 60s, lows in the mid 40s. West winds 7-11 mph.
Anticipated after 72 hours: Mostly clear, highs in the lower 60s. West winds 5-13 mph. Low RHs continue.
Remarks:
Due to steep rugged terrain and dead and dying trees caused by Bark Beetle, indirect fire line tactics are being utilized. Natural barriers such as avalanche chutes, rock screes, high elevation alpine tundra ridges, previous fuel treatment areas, recent burn scars, and wet drainages have been identified to slow the fires' spread. Bottle Pass, Saint Louis Pass, Fraser Experimental Forest (FEF) Headquarters and the Denver Water buildings located in the Bobtail drainage have been identified as areas of point zone protection. Fuels mitigation and placement of water handling equipment have been completed around the structures in both the FEF Headquarters.
Weather Synopsis
Weather Concerns:
Dry air is expected to remain over the area Thursday, with minimum relative humidities in the upper teens around the fire. No precipitation is expected. Westerly surface winds in the afternoon
will be a little stronger than Wednesday, at 10-15 mph. Only poor to moderate humidity recoveries are expected overnight Thursday night. Dry weather is expected to continue through the end of the week. Near critical fire conditions are expected Friday as westerly winds strengthen. Minimum humidity values will remain in the
upper teens.
Incident Contact
Incident Contact
Public Information Line
Email: srdvis@fs.fed.us
Phone: 970-887-4100
Hours: 8 a.m. to 4:30 p.m., Mon.- Fri.
Fire Unit Information
Arapaho and Roosevelt National Forests and Pawnee National Grassland
U.S. Forest Service
2150 Centre Avenue Building E
Fort Collins, CO 80526
Dispatch Contact
Fort Collins Interagency Dispatch Center
| Fort Collins, CO
Phone:
970-295-6800
Website:
https://gacc.nifc.gov/rmcc/dispatch_centers/r2ftc/