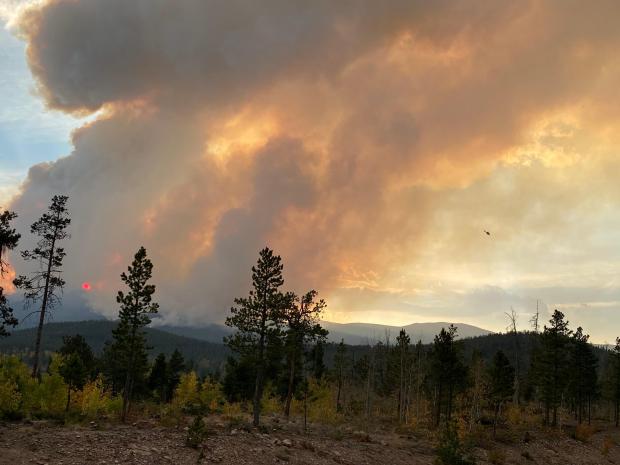 The Cameron Peak fire ignited on August 13 on the Arapaho and Roosevelt National Forest near Cameron Pass and Chambers Lake.  Severe weather coupled with dry forest conditions created extreme fire behavior and caused a major run on September 6th and 7th. A cold front with freezing temperatures and snow stalled fire growth temporarily.  The fire is expected to pick up again as hot and dry weather conditions return toward the end of the week.  On Saturday, September 12th, the Southwest Area Incident Management Team 3 assumed command of the fire.    
Basic Information
Incident Type:
Wildfire
Cause:
Unknown, Under Investigation
Date of Origin:
Thursday August 13th, 2020 approx. 01:48 PM
Location:
15 miles SW of Red Feather Lakes, CO
Incident Commander:
Dave Gesser, Southwest Area Team 3
Coordinates:
40.609, -105.879
Current Situation
Total Personnel:
831
Size (Acres):
104,791
Containment:
27%
Fuels Involved:
Timber (Grass, Litter, and Understory)

Narrative:
High elevation mixed conifer with moderate dead and down fuel loading, along with a high percentage of beetle-killed lodgepole. Lower elevation grass fuels are drying and more available to burn.
Significant Events:
Moderate
Creeping
Single tree torching
Isolated torching

Narrative:
Burning continues to be active in the areas that have heat and available dry fuels. Fire burning continues to be mainly fuel and terrain driven. When the winds forecasted for the day appear at ground level, increased fire activity should be expected. All dead fuel moistures continue to stay low as the forecasted weather pattern continues.
Planned Outlook
Planned Actions:
Fire was active in Division Lima and continues to be fuels and wind driven. Equipment and crews continue to build direct fire line where it is safe and makes sense to do so. Mandatory evacuations remain in effect for the communities of Red Feather & Crystal Lakes. Fire activity, topography, beetle-killed fuels and lack of crews and critical resources have made direct line tactics difficult. T1, T2 helicopters, LATs and SEATS are being used to assist with areas of heat primarily in the Northeast portion of
the fire on the South side of Division L to prevent further spread until line construction can be completed. Resources are monitoring limited fire activity within Rocky Mountain National Park. Other divisions are currently continuing to mop-up, monitor and patrol.

Structure protection is in place and plans to implement continue to be developed and refined as fire continues to move towards values at risk. An increase in fire activity warranted aerial ignitions in areas along HWY 14 corridor to help control fire spread. Engines will continue to patrol and mop-up as needed. Structure assessments, structure protection implementation and control features continue in the Crystal Lake, Red Feather, Glacier View and neighboring communities. Structure triage assessments have been completed in the Falls River corridor, Rocky Mountain
Park, Estes Park, Estes Park Valley, Glen Haven and Storm Mountain areas and surrounding communities. Proposed lines are in place to begin indirect line construction in and around the communities of Glen Haven, The Retreat, Cedar Park, and Storm Mountain should
fire activity dictate.
Projected Incident Activity:
12 hours: Terrain that aligns with the forecasted SW winds will help the fire activity to continue at a moderate to active level as the dead fuels continue to dry. The transition period from daytime up slope winds to nighttime down slope winds will allow the forecasted NW-W winds to influence fire behavior. The larger fuels continue to hold the heat and will be smoldering all night.

24 hours: NW-W winds will influence the fire along with the terrain in the 517 Road area towards Drop Point 250. Weather forecasted continues to maintain dead fuels at their low levels.

48 hours: Fire activity will be moderate to active as weather pattern helps maintain dry fuels, westerly winds will continue to affect the fire and help fire follow the available fuels and terrain as the weather system sets up for a dry cold front passage.

72 hours: The temperature will slowly rise and RHs slowly drop a few days. This will increase the fire activity and one can expect moderate to active rates of spread following the dry available fuel.

Anticipated after 72 hours: With a high pressure system over the fire area temperatures and RHs will return to within near normal. A dry cold front forecasted for Friday will bring strong wind as the front passes the fire area.
Weather Synopsis
Weather Concerns:
Current 72 hours:
Clearing skies today with minimum humidity near 20% and temperatures in the 60s. WNW winds were gusting to near 25 mph as mid-level high pressure builds in from the southwest.
Fire weather concerns continue to increase for Thursday due to dryness, instability, breezy and warm conditions. A few locations will have highs near 70 and RHs will fall into the upper teens for several hours. Fire weather concerns continue to escalate, even
into Friday morning when poor recovery and winds increase on ridges. A Fire Weather Watch has been issued for Friday when west ridgetop winds may gusts to 35-40 mph with RHs in the mid to upper teens, and a Haines Index of 6.

72 hours +:
In the wake of a Pacific cold front Friday night temperatures will cool off some 5-7 degrees Saturday and Sunday with humidity trending higher into the 25% range. On Saturday it will likely still be windy on ridgetops. Little change going into Sunday with a
WNW wind.
Incident Contact
Incident Contact
Public Information Line
Email: 2020.cameronpeak@firenet.gov
Phone: 970-541-1008
Hours: 7 a.m. to 8 p.m.
Fire Unit Information
Arapaho and Roosevelt National Forests and Pawnee National Grassland
U.S. Forest Service
2150 Centre Avenue Building E
Fort Collins, CO 80526