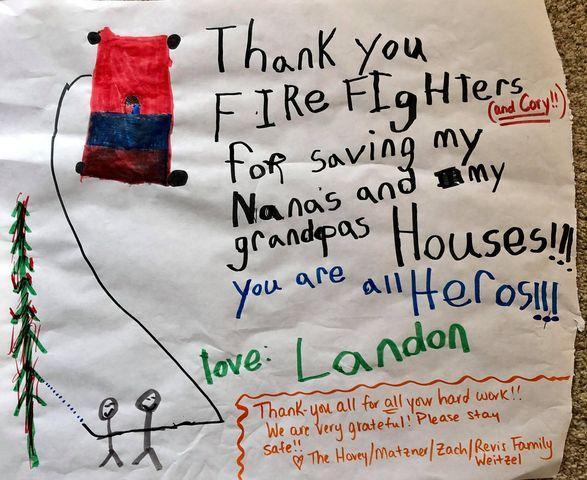 The Cameron Peak Fire is currently 125,006 acres and 30% contained. Poor humidity recovery last night, increasingly dry fuels, and changing winds (out of the north to northwest) will challenge firefighting efforts today. 882 firefighters are now working on this fire.

Cameron Peak Fire Evacuees Update: Credentials for mandatory evacuation areas are being offered today, Wednesday, September 30th, through Friday, October 2nd, from 9:00 to 5:00 pm, at the Fort Collins City Hall, 300 Laporte Avenue. Call 970-732-3036 or email oem@larimer.org prior to arriving. More information is available at https://bit.ly/2HAqTtN 
Basic Information
Incident Type:
Wildfire
Cause:
Unknown, Under Investigation
Date of Origin:
Thursday August 13th, 2020 approx. 01:48 PM
Location:
15 miles SW of Red Feather Lakes, CO
Incident Commander:
Shawn Sheldon, Northwest Incident Management Team 6
Coordinates:
40.609, -105.879
Current Situation
Total Personnel:
882
Size (Acres):
125,006
Containment:
30%
Estimated Containment Date:
Saturday October 31st, 2020 approx. 12:00 AM
Fuels Involved:
Timber (Grass and Understory)
Timber (Litter and Understory)

Narrative:
High elevation mixed conifer with moderate dead and down fuel loading, along with a high percentage of beetle killed lodge pole. Lower elevation grass fuels are drying and more available to burn. ERC values for this area are currently above the 90th percentile and forecast to reach new seasonal maximums over the next seven days.
Significant Events:
Active
Uphill Runs
Backing
Isolated Torching

Narrative:
Fire behavior was generally active today. Backing, flanking, and a couple of short uphill runs with torching and short-range spotting were observed from interior islands of unburnt fuels. Fire activity along the northern fire edges was noticeably increased today, requiring aviation assets to support on the ground suppression actions. Fire behavior is responding to a very dry air mass over the fire area which is producing very low daytime relative humidity. Gusty afternoon winds are contributing significantly to drying of the fuels and increases in observed fire behavior. Overnight humidity recovery is forecast to be only moderate, but significantly higher than previous nights and may be enough to reduce fire behavior overnight and into the early hours tomorrow. Smoke from the Mullen
Fire is currently moving over the fire area and may provide shading with variable effects.
Planned Outlook
Planned Actions:
Fire activity increased today as warmer and drier condition continued. Equipment and crews continue to build direct fire line where it is safe and makes sense to do so. Firefighters are currently engaged in holding the Manhattan Road and engaged in structure protection. Mandatory evacuations were issued for the communities of Red Feather Lakes, Crystal Lakes and Glacier View. Fire activity, topography, bug-killed fuels, critical fire weather including winds gusts over 60 mph have been observed. Lack of crews and critical resources has made direct line tactics difficult to obtain. Resources are monitoring limited fire activity within Rocky Mountain National Park. Other divisions are currently continuing to mop-up, monitor and patrol. Structure protection is in place and plans to implement continue to be developed and refined as the fire continues to move towards values at risk. Engines will continue to patrol and mop-up as needed. Structure assessments,structure protection implementation and control features continue in the Crystal Lake, Red Feather Lakes, Glacier View and neighboring communities. Structure triage assessments have been completed in the Falls River corridor, Rocky Mountain National Park, Estes Park, Estes Park Valley, Glen Haven and Storm Mountain areas and surrounding communities. Proposed lines are in place to begin indirect line construction in and around the communities of Glen Haven, The Retreat, Cedar Park, and Storm Mountain should fire activity dictate.
Projected Incident Activity:
12 hours: Flare ups with torching and short-range spotting are probable through 1900 tonight. Smoke from the Mullen Fire is being transported over the area and may reduce observed fire behavior in the afternoon and overnight.

24 hours: Forecast winds are relatively light, but expected to change direction throughout the day. This may aid in suppression efforts along eastern portions of the fire that have been recently active while exposing hot spots have have not been active for days. Cooler temperatures and slightly higher humidity may begin to moderate overall activity late in the day.
Weather Synopsis
Weather Concerns:
Current -72 hours: Temperatures have cooled of 5-7 degrees today due, in part, to thick shading from smoke of the Mullen Fire. After the humidity falling into the teens before noon today in many areas, the humidity rose to near 30% in the wake of an easterly wind shift across the northern part of the fire. Recovery will be much better tonight

Thursday temperatures will remain in the mid 50s to 60s as cooler northerly flow is expected across the fire after noon. Cooler temperatures will keep humidity relatively high from 22-32%. The return of westerly winds Friday supports a warm up from the upper 50s to the upper 60s with humidity being able to fall back into the upper teens. Northwest winds will gust to around 25 mph. Friday night there is less than a 20% chance of light precipitation with increased recovery.

72 hours +:
Saturday-Monday, although Saturday will be cool with highs in the 50s into the lower 60s, the high temperatures increase quickly Monday-Sunday back into the 60s and lower 70s. Northwest ridgetop winds are expected to increase Sunday and Monday with gusts to 30 mph on ridgetops, By Monday minimum humidity will fall back to near 15%.
Incident Contact
Incident Contact
Public Information Line
Email: 2020.cameronpeak@firenet.gov
Phone: 970-541-1008
Hours: 7 a.m. to 8 p.m.
Fire Unit Information
Arapaho and Roosevelt National Forests and Pawnee National Grassland
U.S. Forest Service
2150 Centre Avenue Building E
Fort Collins, CO 80526
Dispatch Contact
Fort Collins Interagency Dispatch Center
| Fort Collins, CO
Phone:
970-295-6800
Website:
https://gacc.nifc.gov/rmcc/dispatch_centers/r2ftc/