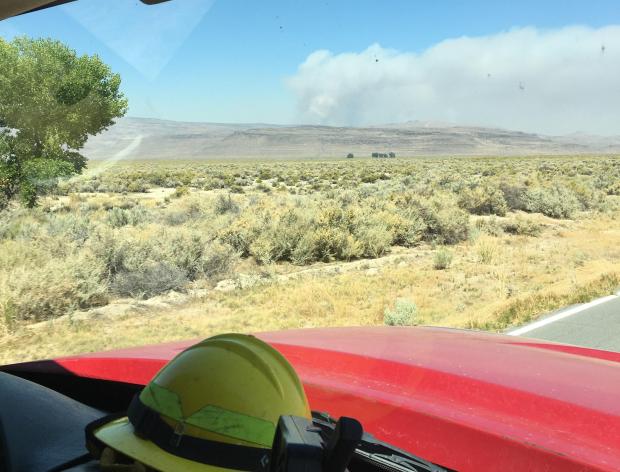 The Poodle Fire was reported on August 12, 2020, at approximately 3:16 p.m.  It was started by lighting that passed through the area the previous day.  In the first two days, the fire was pushed by high winds through juniper, sagebrush and grass.  Extremely low relative humidity, high temperatures, and strong winds pushed the fire east and across Highway 447 on August 13.  There are no closures or evacuations, and no structures have been lost.

A Type 2 Incident Management Team assumed command of the fire on August 15.  A fire camp has been established northwest of Gerlach, Nevada, to support the firefighters working on the Poodle Fire.  The fire is burning in sage grouse and bighorn sheep habitat within the Poodle Mountain Wilderness Study Area and the Granite Mountains.

The Poodle Fire has not grown in acreage since 8/15. 
Basic Information
Incident Type:
Wildfire
Cause:
Lightning
Date of Origin:
Wednesday August 12th, 2020 approx. 03:16 PM
Location:
20 miles NW of Gerlarch, NV
Incident Commander:
Tim Roide, Great Basin Team #4
Coordinates:
40.818, -119.648
Current Situation
Total Personnel:
208
Size (Acres):
13,606
Containment:
100%
Estimated Containment Date:
Wednesday August 19th, 2020 approx. 12:00 AM
Fuels Involved:
Grass, sage, mountain brush, and heavy juniper fuels.
Significant Events:
Some isolated interior pockets of unburned vegetation may continue to smolder.
Planned Outlook
Planned Actions:
Continue securing the fireline and monitoring existing containment lines. Respond as necessary to any new fires in the area.
Projected Incident Activity:
No fire growth expected. Demobilization of most assigned resources.
Remarks:
Resources assigned: 3 helicopters, 3 engines, 4 crews, and 1 dozer.

Great Basin Type 2 Incident Management Team #4 will transfer command back to the local Winnemucca District BLM on Thursday, 8/20.
Weather Synopsis
Weather Concerns:
Thunderstorms remained south and east of the fire area today, but southwest winds were gusty at 12 to 18 mph with gusts to 30 mph. It remained hot with temperatures in the 90s and relative humidity in the teens. Tomorrow, a Red Flag Warning is in effect for strong west to southwest winds. Speeds are expected to reach 15 to 24 mph with gusts to 35 mph as relative humidity drops to near 10%. Temperatures will remain hot and well into the 90s. It will remain breezy Thursday and Friday with west wind, gusting to 25 to 30 mph. Temperatures will cool about 5 degrees but it will remain dry. Similar conditions are expected into the weekend.
Incident Contact
Incident Contact
Winnemucca BLM
Phone: 775-623-1500
Fire Unit Information
Winnemucca District Office
Bureau of Land Management
5100 East Winnemucca Blvd Winnemucca NV 89445 Nevada
Winnemucca, NV 89445
Dispatch Contact
Central Nevada Interagency Dispatch Center
| Winnemucca, NV
Phone:
775-623-3444
Website:
https://gacc.nifc.gov/gbcc/dispatch/nvcnc/index.htm