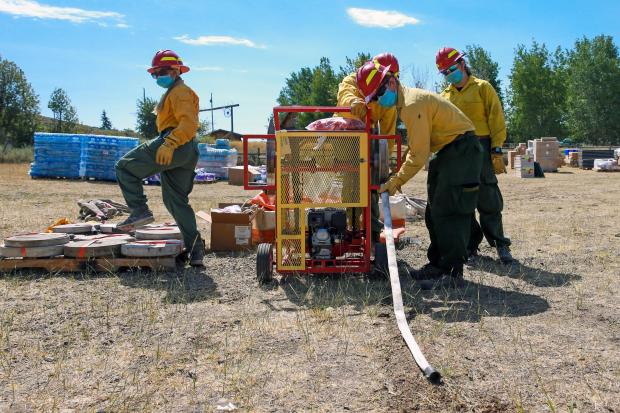 The Phillips Creek Fire was sparked by lightning on Aug. 5 about 8 miles north of Fairfield, Idaho. Structures are threatened in the Phillips Creek and Free Gold Creek drainages, as are outbuildings on Soldier Creek Road from Free Gold to the Soldier Mountain Ski Resort.

Soldier Mountain Ski Area has postponed the opening of the new trail system. The road into the area is closed as is Couch Summit. A Forest Closure was put in place on Aug. 8 for the fire area.

Great Basin Incident Management Team 3 assumed command of the fire on Aug. 9. 
Basic Information
Incident Type:
Wildfire
Cause:
Lightning
Date of Origin:
Wednesday August 05th, 2020 approx. 11:00 PM
Location:
8 miles north of Fairfield, Idaho
Incident Commander:
Ron Bollier, GBIMT3
Incident Description:
The Phillips Fire, Reported On Aug. 5, Is Located About 8 Miles North Of Fairfield. It Was Started By Lightning.
The Road Into The Area Is Closed. A Forest Closure Is In Place For The Fire Area.

Coordinates:
43.456, -114.834
Current Situation
Total Personnel:
233
Size (Acres):
2,112
Containment:
100%
Estimated Containment Date:
Friday August 14th, 2020 approx. 12:00 AM
Fuels Involved:
Short grass, brush, closed timber litter.

Perennial grasses and long-standing brush. Timbered stringers with patches of aspen in draws and drainages.
Significant Events:
Minimal fire behavior with smoldering in heavy dead and down trees, and creeping through duff and forest litter.

No fire spread outside current fire footprint.
Planned Outlook
Planned Actions:
Firefighters will monitor completed fire line and secure where applicable.

Suppression repair is largely completed and is waiting on the Forest resource advisor's approval.

Firefighters will maintain readiness for initial attack.
Projected Incident Activity:
Minimal fire behavior will continue into the evening as warm temperatures and gusty winds produce interior smoldering and surface burning until relative humidity recovery subdues fire activity. The fire is not expected to spread further.

Tomorrow fire activity is anticipated to diminish following overnight humidity recovery and continued cool down of burn area. Afternoon sunshine, warm, dry, and windy conditions are not anticipated to produce more than minimal fire activity.
Weather Synopsis
Weather Concerns:
Thursday's forecast calls for dry weather with seasonal temperatures. Winds are expected to shift from the west to the northwest due to a weak cold front. Gusts of up to 25 mph are possible.
Incident Contact
Incident Contact
Fairfield Ranger District Office
Phone: 208-764-3202
Hours: M-F, 8 a.m. to 5 p.m., Closed Saturday and Sunday
Fire Unit Information
Sawtooth National Forest
U.S. Forest Service
Idaho
Jerome, ID 83338