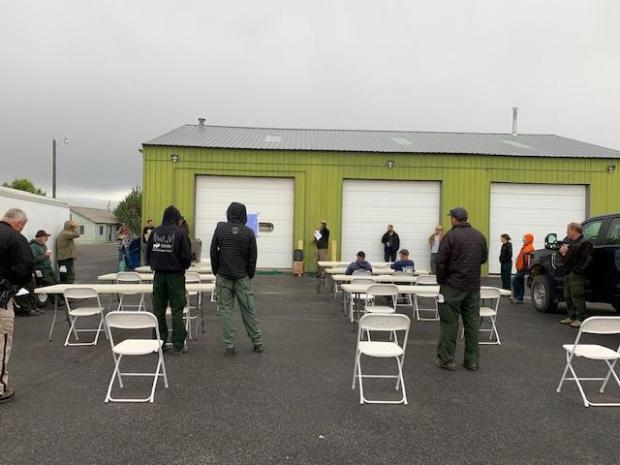 We would like to remind the public to stay clear of the area as congestion problems can impact the firefighter's ability to safely access the burned area. The Helena-Lewis and Clark National Forest would also like to remind the public that the area around the Brooklyn Bridge Timber Sale is closed. 

Resources on the fire include two (2) Type 1 Crews, one (1) Type 2 Initial Attack Crew, & three (3) Engines.  
Basic Information
Incident Type:
Wildfire
Cause:
Power Line
Date of Origin:
Saturday June 13th, 2020 approx. 03:00 PM
Incident Commander:
Adrian Hahn & Jordan Nelson (Trainee)
Coordinates:
46.482, -112.057
Current Situation
Total Personnel:
62
Size (Acres):
1,079
Containment:
85%
Fuels Involved:
Heavy dead and down timber with rocky outcrops and grassy patches throughout.
Planned Outlook
Planned Actions:
Fire crews will continue to build and reinforce containment and access lines on the east and west sides of the fire as well as begin work clearing evacuation routes should they be needed for future operations.
Projected Incident Activity:
The fire is burning on Forest Service, state, and private land. Fire behavior and fire spread are minimal with occasional hot spots inside the perimeter.
Remarks:
Snags continue to pose an extreme safety threat to firefighters.
Weather Synopsis
Weather Concerns:
Hot and dry weather conditions will continue to dry fuels over the next two days before a low pressure system brings another round of rain to the area. Afternoon thunderstorms on Wednesday could bring gusty and erratic winds to the area.
Incident Contact
Incident Contact
Public Information
Phone: 406-750-8934
Hours: M-F 8 to 5; SS 9 to 5
Fire Unit Information
Montana Department of Natural Resources & Conservation
1539 Eleventh Ave.
Helena, MT 59601
Dispatch Contact
Helena Interagency Dispatch Center
| Helena, MT
Phone:
406-444-4242
Website:
https://gacc.nifc.gov/nrcc/dc/mthdc/index.htm