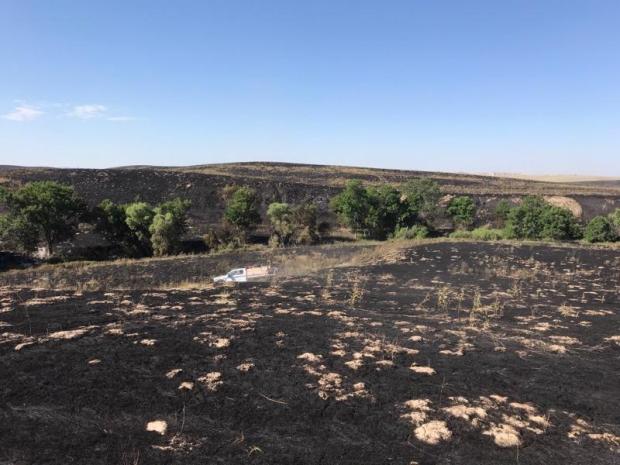 On August 6, 2020 in the late afternoon, a wildland fire was started southeast of Red Shirt and Northeast of Oglala, South Dakota. A perimeter was quickly established around the fire which grew to 1,367 acres by August 7, 2020. The majority of the work for the next couple of days will be fortifying the perimeter and mopping up the interior. Three single residences were threatened. Bureau of Indian Affairs and local Volunteer Fire Departments along with the Oglala Sioux Tribe and two Single Engine Air Tankers were used on the fire.
Basic Information
Incident Type:
Wildfire
Cause:
Human
Date of Origin:
Thursday August 06th, 2020 approx. 05:00 PM
Location:
Between Red Shirt and Oglala, South Dakota off SD Highway 41
Incident Commander:
Samuel Blacksmith
Coordinates:
43.273, -102.711
Current Situation
Total Personnel:
9
Size (Acres):
1,367
Containment:
95%
Fuels Involved:
Rough Terrain, heavy fuel loading, continuous fuel
Significant Events:
There were no evacuations. Grass Creek Road on the west side and a blade line on the east with burn outs tied to the perimeters.
Planned Outlook
Planned Actions:
The plan is to continue mopping up hot spots and patrolling for sleepers.
Projected Incident Activity:
Mop up continues with gridding within the Timber.
Remarks:
The Bureau appreciates the quick response and support of the local Volunteer Fire Departments and other partners.
Weather Synopsis
Weather Concerns:
High temperatures remain a concern.
Incident Contact
Incident Contact
Diane Mann-Klager
Email: diane.mann-klager@bia.gov
Phone: 605-252-6763
Hours: M-F 0800-1630
Fire Unit Information
Pine Ridge Agency
Bureau of Indian Affairs
South Dakota
Pine Ridge, SD 57770