Incident #:
2020-IDSWS-000558
Fire Start:
Thursday, August 6, 2020 2:55 AM MDT
Fire Unit:
Idaho Department of Lands — Southwest Supervisory Area
Dispatch Notes:
Prot: idl id-sws, owner: state, county: boise, sghab: , elev: 6600' - 6800', acec: , wldns: , rfd: | Contain: 08/17/20 0600 | Control: 08/21/20 1800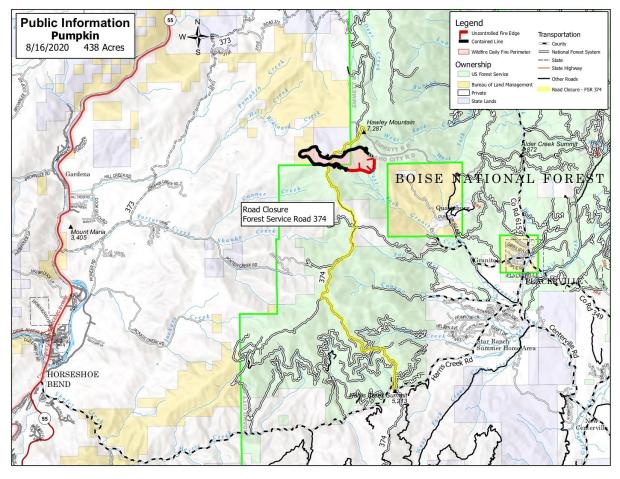 The Pumpkin fire was started by lighting on August 6, 2020. It is burning in steep, hard to access mountainous terrain. The primary spread has been through spotting in subalpine fir with little surface fire carrying in the brush. Fire spread has been halted and the fire was declared contained on August 16. Command of the fire was transferred back to the local area on August 17 who will continue to secure, patrol, and complete suppression repair activity over the next few days.

This will be the final update unless a significant activity takes places.
Basic Information
Incident Type:
Wildfire
Cause:
Lightning
Date of Origin:
Thursday August 06th, 2020 approx. 01:55 AM
Location:
8 miles SSW of Garden Valley, Idaho
Incident Commander:
Tyler McCowan ID-BLM
Coordinates:
43.982, -116.058
Current Situation
Total Personnel:
159
Size (Acres):
438
Containment:
100%
Estimated Containment Date:
Monday August 17th, 2020 approx. 12:00 AM
Fuels Involved:
Timber (Litter and Understory)
Significant Events:
Minimal fire behavior with smoldering.
Planned Outlook
Planned Actions:
Crews continue build depth on containment lines utilizing hose lays to assist with mop-up. The fire continues to utilize rotor wind aircraft for logistical missions,and filling of Klump pumps. Where appropriate, hose lays will be removed and suppression repair will begin.
Projected Incident Activity:
Smoldering. No expected fire growth, crews have made good progress securing the perimeter. Depth along control lines continue to increase.
Weather Synopsis
Weather Concerns:
ISOLATED THUNDERSTORMS EACH AFTERNOON/EVENING THROUGH TUESDAY
GUSTY OUTFLOW WINDS POSSIBLE FROM SHOWERS AND THUNDERSTORMS
Hot and unstable conditions coupled with mid-level moisture will support a slight chance of late day showers and thunderstorms through Tuesday. The best chance for activity will come Monday and Tuesday. Any showers and thunderstorms that develop will be capable
of producing gusty and erratic outflow winds. Hot conditions will persist all week with drier weather expected after Tuesday.
Incident Contact
Incident Contact
Brentwood Reid
Email: pumpkinfireinfo@gmail.com
Phone: 208-719-1705
Fire Unit Information
Idaho Department of Lands
Idaho
Boise, ID 83702
Dispatch Contact
Boise Interagency Dispatch Center
| Boise, ID
Phone:
208-384-3400
Website:
https://www.idahofireinfo.blm.gov/southwest/