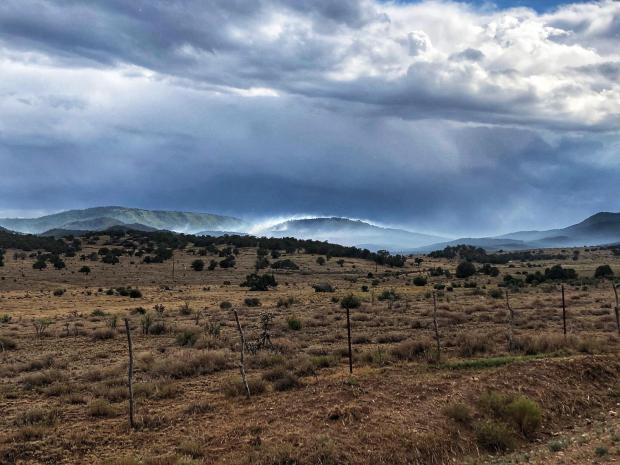 The Dark Canyon Fire is now 3,070 acres and 48% contained. It was started by lightning on August 4, 2020 in a remote part of the Smokey Bear Ranger District in the Lincoln National Forest. The fire is about 9 miles northwest of Capitan, NM. When a wildfire occurs, fire managers develop a plan to suppress it where conditions and terrain are favorable, and where it can be done safely without putting firefighters at unnecessary risk. Firefighters are using a full-suppression, confine-and-contain strategy to hold fire growth to a defined area. Fire resources have encircle the main fire with control lines via the construction of hand lines, bulldozer lines and back burning operations (aka firing operations).  
There are no structures at risk.
 
There are no evacuations or closures in place.   
Basic Information
Incident Type:
Wildfire
Cause:
Lightning
Date of Origin:
Tuesday August 04th, 2020 approx. 04:30 PM
Location:
Dark Canyon, North of Tucson Mountain. Approx. 9 miles from Capitan, NM
Incident Commander:
Smokey Bear Ranger District, Lincoln National Forest
Coordinates:
33.667, -105.629
Current Situation
Total Personnel:
25
Size (Acres):
3,070
Containment:
48%
Estimated Containment Date:
Sunday August 23rd, 2020 approx. 05:00 PM
Fuels Involved:
Dead and Down Debris, Grass, Pine, Pinon-Juniper
Planned Outlook
Planned Actions:
Monitor, improve and secure control lines along the southern side of the fire.
Projected Incident Activity:
Minimal growth expected to the south.
Weather Synopsis
Weather Concerns:
Temperatures in upper 80s with a 20% chance of rain. Humidity levels will be about 20%. Winds 5-10 mph.
Dispatch Contact
Alamogordo Dispatch Center
| Alamogordo, NM
Phone:
575-437-2286
Website:
https://gacc.nifc.gov/swcc/dc/nmadc/