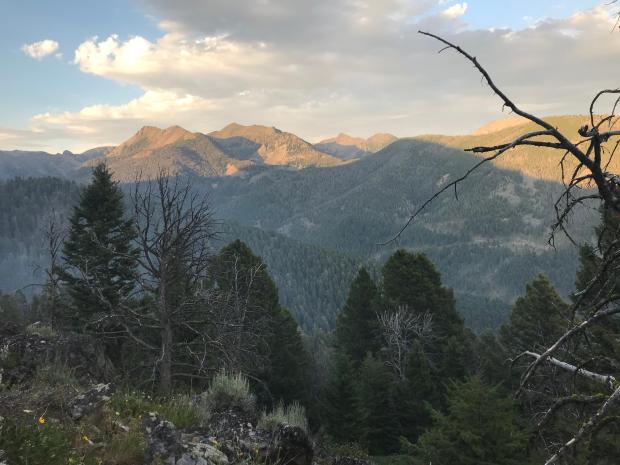 This morning, the fire transitioned from a Type III to a smaller local Type IV organization.  The Old Baldy Fire is at 50% containment and holding at 129 acres due to the successful efforts of firefighter and aviation resources.  Fire activity is minimal with heat in the interior of the existing fire perimeter.  The fire is in hazardous terrain that is steep and inaccessible with snags that are a safety concern for firefighters.   
Firefighters will continue to to address any hot spots near the fire's edge and will utilize air resources as needed.  Fire managers expect minimal fire behavior and smoke today.  Firefighters will continue to staff the fire for the next several days and will continue to monitor the fire in the coming weeks.  
The area closure (#2020-D6-016) was lifted at 5:00 pm yesterday, August 7, 2020. 
Basic Information
Incident Type:
Wildfire
Cause:
Lightning

Date of Origin:
Saturday August 01st, 2020 approx. 08:00 PM
Location:
Eight (8) miles East of Twin Bridges, MT in the Tobacco Root Mountains
Approximately 6 miles northeast of Sheridan, MT
Incident Commander:
Compton/Racicot(t)
Incident Description:
Wildfire
Coordinates:
45.554, -112.146
Current Situation
Total Personnel:
67
Size (Acres):
129
Containment:
50%
Estimated Containment Date:
Tuesday September 01st, 2020 approx. 12:00 PM
Fuels Involved:
Timber (subalpine fir and whitebark pine), grass
Significant Events:
Minimal fire behavior. The fire is creeping (burning with a low flame and spreading slowly) and smoldering
Planned Outlook
Planned Actions:
Utilize air resources; hot spotting (checking the spread of fire at points of more rapid spread) with ground resources.
Projected Incident Activity:
Minimal fire activity with interior heat. Fire suppression will continue using both air and ground support.
Remarks:
Transition from the Type III to a local Type IV organization on August 8, 2020.
Weather Synopsis
Weather Concerns:
Mostly cloudy. Slight chance of rain showers and thunderstorms in the morning, then chance of rain showers and slight chance of thunderstorms in the afternoon.
Incident Contact
Incident Contact
Madison Ranger District
Phone: 406-682-4253
Hours: Mon-Fri 8:00 am - 4:30 pm
Fire Unit Information
Beaverhead-Deerlodge National Forest
U.S. Forest Service
420 Barrett St Dillon Montana 59725
Dillon, MT 59725