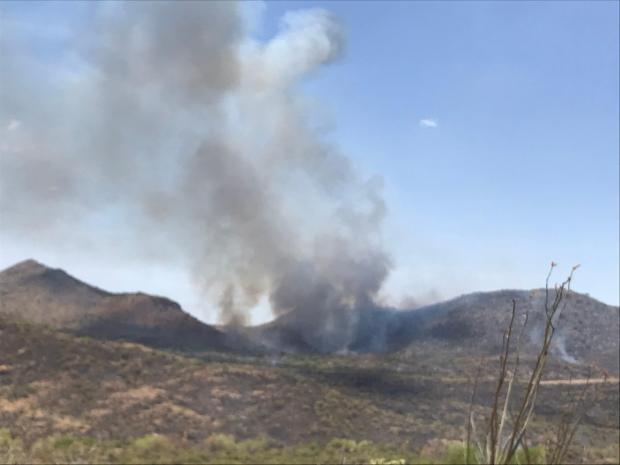 The Fresnal Fire was discovered burning towards the international border in Mexico on July 7th. The fire's ignition source at the present time is unknown. It quickly spread to approximately 500 acres and burned northeastward across the international border onto Coronado National Forest lands. By evening, Mexican "Bomberos" had engaged the fire south of the border. Coronado National Forest fire crews also responded to the fire as it moved into the United States.
This morning crews north of the border coordinated with Mexican crews and jointly conducted burn outs from constructed fire lines intended to keep the fire from moving further into Arizona.
Tomorrow firefighters will continue to defend established lines while widening those barriers. Ambient temperatures along the border have exceeded 100 degrees with fuel conditions extremely dry. These conditions and steep terrain are challenging firefighters, but they are making steady progress.
Currently no structures are threatened.
Closures: Stage 2 fire restrictions are in place for the entire Coronado National Forest. These restrictions prohibit open fires, fireworks, and target shooting. Please see: https://Facebook.com/CoronadoNF/ for additional restrictions. For additional information please see: https://www.inciweb.nwcg.gov
Basic Information
Incident Type:
Wildfire
Cause:
Human
Date of Origin:
Monday July 06th, 2020 approx. 07:32 PM
Location:
Approximately 10 miles southwest of Arivaca, AZ on the U.S. / Mexico Border.
Incident Commander:
Darrell Howell
Coordinates:
31.444, -111.418
Current Situation
Total Personnel:
11
Size (Acres):
502
Containment:
90%
Fuels Involved:
Chaparral (6 feet)
Tall Grass (2.5 feet)
Planned Outlook
Planned Actions:
Continue to mop up, monitor and patrol to hold and improve firelines on the US side.
Continue to monitor suppression activities and fire spread on the Mexico side of the fire while maintaining daily coordination with resources in Mexico.
Projected Incident Activity:
No spread expected on the north side of the fire in the U.S. However, potential still exists for the fire to hook around containment lines in Mexico and make a push toward U.S. / Mexico border.
Remarks:
Reported acres only includes those in the U.S. and does not include those in Mexico.
Weather Synopsis
Weather Concerns:
Potential for isolated storms with gusty outflow winds could impact the fire. Maximum temperatures in excessive of 100 degrees through the weekend with humidity below 20%. Wettable rain on the fire last evening.
Incident Contact
Incident Contact
Fire Information
Phone: (520) 991-9226
Hours: 8:00 AM - 8:00 PM
Fire Unit Information
Coronado National Forest
U.S. Forest Service
300 W. Congress St.
Tucson, AZ 85701