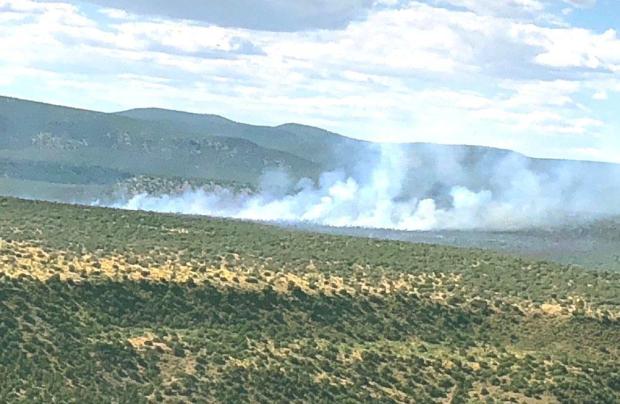 POLLES FIRE UPDATE - July 15, 2020, 6:00 p.m.

Acres: 628 acres                                                                                                           


Percent Containment: 92%
 
Start Date: Friday, July 3, 2020                                                                                                            


Cause: Lightning
 
Origin Location: 11 miles W of Payson, AZ                                                                                                              

Fuels: Pinyon juniper, high desert grass

Resources: approx. 177 personnel assigned: including 2 hotshot crews, 6 helicopters, 2 engines
Minimal fire activity on the Polles Fire;
Crews continue to patrol
 
 
Payson, Ariz. – Unless there is new or significant fire activity, this will be the final update on the Polles Fire.  Hotshot crews worked Tuesday in the rugged and remote terrain to cut additional fireline, track and attack heat sources, and secure the northwest edge of the fire. 
 

The Polles Fire is now at 92% containment, and Tuesday night's infrared flight showed minimal heat sources. Crews will remain on scene to patrol and continue securing any hotspots. Weather conditions remain hot and breezy, with a slight chance of precipitation this weekend.
 
The Southwest Area Type 1 Incident Management Team 2 will transfer command of the fire to the Tonto National Forest on Thursday July 16, 2020 and 6:00 p.m. 

There are no threats from the Polles Fire to the communities of Pine-Strawberry or Payson. We do encourage that residents become familiar with Arizona's Ready-Set-Go program and sign up for their county emergency notification systems and remain alert, ready and make essential preparations. Visit https://ein.az.gov/ready-set-go for more information.  

The Tonto National Forest has a Closure in effect across the forest to prevent new human caused fires.  Details are available at https://www.fs.usda.gov/alerts/tonto/alerts-notices.

Wildfires are a No Drone Zone. If you fly, we can't. Every time a drone is spotted near the fire all aircraft are grounded until we can be sure the drone is clear of this area. Drove incursions during a wildfire can result in significant fines and jail time. For more info, visit: http://knowbeforeyoufly.org.

 
Polles Fire Public Information

Fie Information: (480) 339-9585
Email: eric.solomon@usda.gov
Inciweb:  inciweb.nwcg.gov/incident/6825/
Tonto NF Facebook: FB.me/TontoNationalForest/
Tonto NF Twitter:  twitter.com/TontoForest
Tonto NF Website:  www.fs.usda.gov/tonto
Basic Information
Incident Type:
Wildfire
Cause:
Lightning
Date of Origin:
Friday July 03rd, 2020 approx. 03:00 PM
Location:
Mazatzal Wilderness - 11 miles west of Payson, AZ and 6 miles south of Pine-Strawberry, AZ
Incident Commander:
SW Area Type 1 Team #2: IC J. Pierson
Coordinates:
34.266, -111.54
Current Situation
Total Personnel:
177
Size (Acres):
628
Containment:
92%
Estimated Containment Date:
Thursday July 16th, 2020 approx. 06:00 PM
Fuels Involved:
Short Grass (1 foot)

Dormant Brush,

Hardwood Slash

Narrative: Fire has been limited to sparse short grass and pinyon-juniper stands.


Significant Events:
Minimal

Creeping

Smoldering

Narrative:



The fire has been lined and holding for the last several days.

There is no heat showing but there may be isolated stump holes and root systems holding heat that will show up in the afternoon as the day heats up.

The fire is expected to hold within the current containment lines.


Planned Outlook
Planned Actions:
Continue targeted mop up in locations with heat remaining.


A contingent of resources is available for new fire starts, if any.
Projected Incident Activity:
Next 12 hours:
The remaining heat sources will continue to burn out over time in the absence of
strong winds. No fire movement is expected.

24 hours:
Smoldering, remaining heat sources will continue to burn out over time in the absence of
strong winds. No fire movement is expected.

48 hours:
Remaining heat sources within the fire perimeter will likely have completed burning out.
Moisture is forecast to began moving back into the area, this may produce outflow winds and
lightning.

72 hours:
Few detectable heat sources remaining. No fire growth is likely. Moisture is forecast over the fire area.
Anticipated after 72 hours:Few detectable heat sources remaining. No fire growth is likely.

Remarks:

The Tonto National Forest, Payson Ranger District, will assume command under Type 4 IC Greg Sawyer at 1800 on 07/16/2020.
Weather Synopsis
Weather Concerns:
Mostly sunny skies persisted over the fire allowing temperatures to reach the 90s before noon once again. The relative humidity remained in the 20s most of the day before dropping into the teens in the late afternoon.

The chance of thunderstorms returns to the higher terrain on Thursday and Friday which creates a risk of outflow winds over the fire. Saturday and Sunday will have enough moisture in the air that measurable rainfall, while minimal, will be possible over the fire.
Incident Contact
Incident Contact
Eric Solomon, Tonto National Forest Public Affairs
Email: eric.solomon@usda.gov
Phone: 480-339-9585
Hours: 7:00 a.m.-7:00 p.m.
Fire Unit Information
Tonto National Forest
U.S. Forest Service
2324 E. McDowell Rd
Phoenix, AZ 85006