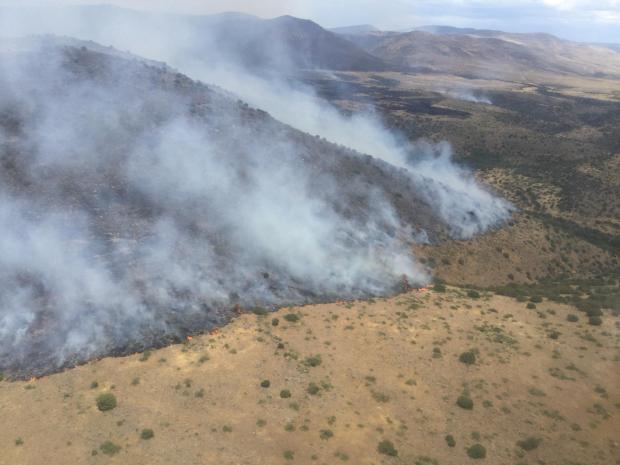 Unless there is a significant increase in fire activity, this site will not be updated.
The Blue River 2 Fire, located 15 miles northeast of San Carlos, AZ, is currently burning on the tribal lands of the San Carlos Apache Nation. The Blue River 2 Fire was caused by a lightning strike on on July 10, 2020. Due to the increasing complexity of the fire, the San Carlos Apache Nation ordered the Southwest Area Type 2 Incident Management Team 4 on July 14, 2020. Team 4 assumed command of the fire on July 15, 2020 at 6:00AM. The lightning caused Valley Fire is also being managed by Team 4 due to it's proximity to the Blue River 2 Fire.

The Blue River 2 and Valley Fires have decreased in complexity and have moderated to the point that command of the fires will transition from the Southwest Area Type 2 Incident Management Team, led by Incident Commander Carl Schwope, to a Type 4 Organization, led by Incident Commander Mike Gutierrez, on July 20, 2020.
Basic Information
Incident Type:
Wildfire
Cause:
Lightning
Date of Origin:
Sunday July 12th, 2020 approx. 09:30 AM
Location:
15 miles NE of San Carlos
Incident Commander:
Carl Schwope - Southwest Area Incident Management Team 4
Coordinates:
33.479, -110.298
Current Situation
Total Personnel:
288
Size (Acres):
28,051
Containment:
67%
Fuels Involved:
Brush, tall grass, and hardwood litter. Heavy grass crop and dry light brush are the primary carriers of the fire.
Significant Events:
Blue River 2 had moderate minimal activity. Yesterday's activity has subsided with only smoldering remaining. Scattered interior fuels continue to consume with limited activity along the canyon edge.
Planned Outlook
Planned Actions:
Secure black edges, and patrol status.
Projected Incident Activity:
Direct Suppression is being used as much as safety allows. Aerial resources will be used to assist handcrews in suppression efforts. Crews have been line spiked to reduce travel and minimize Covid exposure.
Weather Synopsis
Weather Concerns:
Temperatures on Monday will cool slightly, however daytime humidity values are still expected to fall into the mid-teens. Winds will also diminish slightly, however ridgetops will continue to see gusty winds in the afternoon. Overnight recoveries will remain good. Enough moisture will remain in the atmosphere to keep an isolated chance of showers and thunderstorms around the fire. Tuesday through Friday, temperatures will start to fall into the lower 90's as rain chances increase through the end of the week under a surge of monsoon moisture.
Incident Contact
Incident Contact
San Carlos Apache Tribe Forestry
Phone: 928-475-2326
Hours: 8:00 am - 5:00 pm
Fire Unit Information
San Carlos Agency
Bureau of Indian Affairs
P. O. Box 209 San Carlos Arizona 85550
San Carlos , AZ 85550