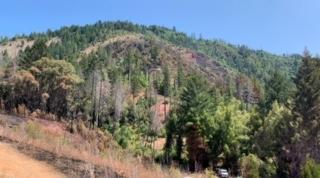 Beginning today, a smaller Type 3 firefighting organization will be in place to complete containment of the fire.  The remaining work is focused on suppression repair.  Portions of the dozer lines remain; they must be treated with water bars and covered with brush and then inspected before considered complete. A wood chipper will be brought in to chip up cut brush; wood chips are spread over areas disturbed by fire line construction to prevent later soil erosion.  An excavator will be used to water-bar and place slash and cut-brush over the dozer lines.  The firefighters will also assist the Hoopa Fire Department as needed with any new starts. 
Weather for the area: Hot and dry weather conditions are expected to continue through the week. Good relative humidity recovery of 50% or higher will occur overnight. Thunderstorms are expected to the north and east of the fire area today; there is a slight chance for storms in the fire area.   Winds of 6-12 mph, with gusts of 25 mph during the warmest part of the afternoon are expected.  
Unless conditions change, this is the final update for the Milepost 21 Fire.  
 
California Interagency Incident Management Team 11 appreciates the support of Hoopa Valley tribal members and the Hoopa Fire Department.  We hope everyone remains healthy during these challenging pandemic times. 
Basic Information
Incident Type:
Wildfire
Date of Origin:
Monday July 20th, 2020 approx. 12:00 PM
Location:
Milepost 21 along Hwy 96, east of highway.
Incident Description:
Wildland Fire
Coordinates:
41.168, -123.696
Current Situation
Total Personnel:
150
Size (Acres):
100
Containment:
90%
Estimated Containment Date:
Sunday July 26th, 2020 approx. 12:00 AM
Fuels Involved:
Timber
Significant Events:
Interior stump holes continue to smolder, posing no threat to established containment lines.
Planned Outlook
Planned Actions:
Operations units will continue to monitor and patrol established containment lines. Suppression repair activates will continue. The management team will brief and prepare the incoming Type III management team. Transfer of command is planned for 0700 hours July 27,2020.
Projected Incident Activity:
No fire growth is anticipated.
Weather Synopsis
Weather Concerns:
High pressure over region will continue to bring hot and dry conditions over the fire area today with a slight chance of isolated thunderstorms in the late afternoon and early evening hours.

Cumulus buildups may be noticeable to the north and east of the incident and any thunderstorms may contain strong downdrafts that can impact the fire. Expect warmer and drier conditions overnight, but with relative humidity recoveries over the fifty percent.
Incident Contact
Incident Contact
Kate Kramer
Email: kate_kramer@firenet.gov
Phone: 5303242162
Hours: M-F 8am - 8pm, SS 8am - 8 pm
Fire Unit Information
Hoopa Valley Tribe
Bureau of Indian Affairs
11860 State Highway 96 P.O. Box 1348 Hoopa California 95546
Hoopa, CA 95546