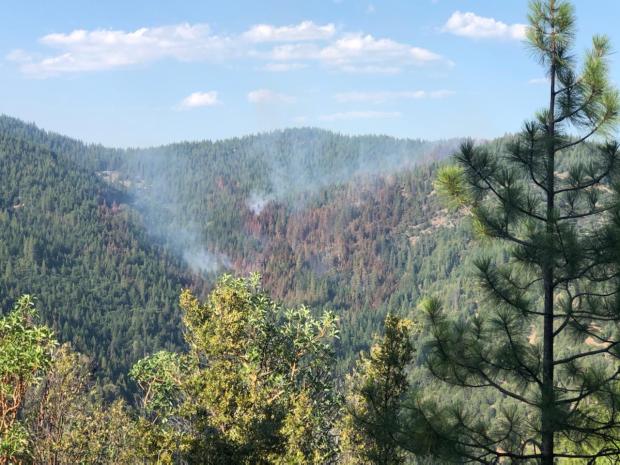 August 5, 2020 - The Klamath National Forest received widespread lightning across the forest in July, sparking numerous wildfires. Because of aggressive fire suppression efforts by the Klamath National Forest and numerous cooperators, a total of 31 fires have been declared out. Three of the remaining fires are controlled and being patrolled. The Little Soda fire on the Oak Knoll Ranger District is 95% contained. This highly successful effort was achieved by the combined efforts of 22 firefighting crews, 32 engines, 6 dozers, 6 water tenders, multiple aircraft, overhead personnel and numerous dispatch centers from California and Oregon over a  two week period.
Firefighters worked long hours in challenging terrain to achieve these results including initial attack resources that worked through the night to stop forward progression of the Little Soda Fire, the 96 Fire, as well as the Doolittle Fire which threatened evacuation of Happy Camp, CA. Two firefighters sustained minor heat related injuries during suppression efforts on the 35 lightning caused wildfires.
Additional lightning is predicted later this week and in response the Klamath National Forest will be using a combination of fire lookouts and fixed wing aircraft to search for wildfire starts. 
Unless significant events occur, this incident will no longer be updated.    
Basic Information
Incident Type:
Wildfire
Cause:
Lightning
Date of Origin:
Sunday July 26th, 2020 approx. 05:00 PM
Location:
Klamath National Forest
Incident Commander:
Klamath National Forest
Incident Description:
Lightning Strike Fires
Coordinates:
41.707, -122.644
Planned Outlook
Planned Actions:
Continue to mop up and work toward 100% containment on the Little Soda Fire; continue to patrol the Doolittle and 96 fires.
Remarks:
Firefighters are challenged by hot, dry weather and steep terrains. Thunderstorms occurred over the forest today. Some precipitation was recieved.
Weather Synopsis
Weather Concerns:
8/5 red flag warning in effect for abundant lightning on dry fuels.