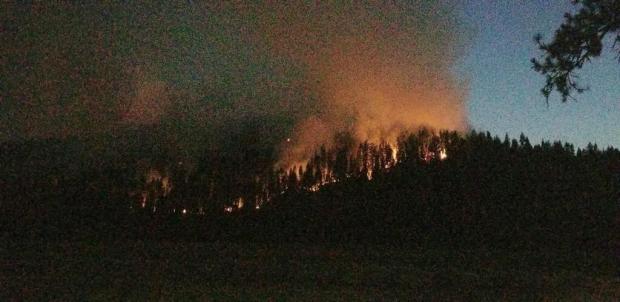 The Stump Fire started August 1, 2020 at 1:55 PM on Doe Mountain above Child's Meadow HWY 36 and HWY 172. The cause was a lightning struck tree from a storm system that passed through several days prior.  
Basic Information
Incident Type:
Wildfire
Cause:
Lightning
Date of Origin:
Saturday August 01st, 2020 approx. 02:00 PM
Location:
Near the junction of State Highways 36 and 172 near Childs Meadows.
Incident Commander:
Lassen National Forest
Coordinates:
40.336, -121.51
Current Situation
Total Personnel:
201
Size (Acres):
684
Containment:
97%
Estimated Containment Date:
Wednesday August 12th, 2020 approx. 12:00 AM
Fuels Involved:
Timber
Significant Events:
Smoldering and creeping
Planned Outlook
Planned Actions:
Significant demobilization of resources will start today. The fire will be turned over to Type 4 IC tomorrow.
Projected Incident Activity:
Firefighters continue to secure fire lines to the extent necessary to keep the fire within current footprint. Fire line suppression repair has started to occur.
Weather Synopsis
Weather Concerns:
Hot and dry for the next few days.Isolated storms are possible through the weekend with widespreed storms Monday and Tuesday.
Incident Contact
Incident Contact
Lassen NF PAO
Phone: 530 310 3504
Fire Unit Information
Lassen National Forest
U.S. Forest Service
2550 Riverside Ave SUSANVILLE California 96130
Susanville, CA 96130