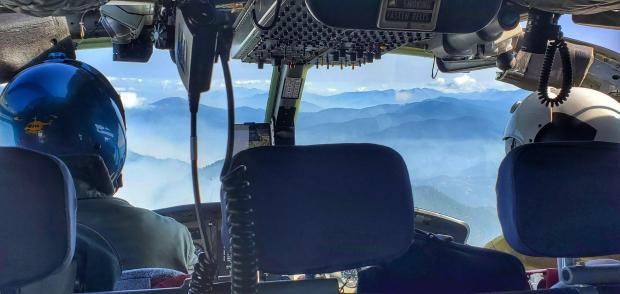 The Red Salmon Complex started the morning of July 27 in the Trinity Alps Wilderness Area and quickly grew in the steep and rugged terrain. As of September 23, the fire is 106,292 acres and 29 percent contained. The fire is burning on the Klamath, Six Rivers, and Shasta-Trinity National Forests in Humboldt, Siskiyou, and Trinity Counties. Communities near the fire include Hoopa Valley, Willow Creek, Salyer, Trinity Village, Denny, Forks of Salmon, and Orleans.
 
Daily Operational Update Video - Red Salmon Videos
 
Firefighting Activity
Firefighters have contained the northwest and west sides of the fire from the Whitney Peak area on the north side to Box Camp on the west side. Along the southwestern and southern flanks, firefighters are successfully conducting firing operations and improving roads to protect the Hoopa Valley Reservation and the communities of Willow Creek and Denny. Structure protection in the Forks of Salmon area continues to be a priority while hand crews, heavy equipment, and firefighting aircraft continue to suppress the fire.
 
Evacuations and Closures
On September 18, Siskiyou County Sheriff's Office downgraded the evacuation order for Forks of Salmon to an evacuation warning. Residents may return to their homes.
The US Forest Service Pacific Southwest Region opened some National Forests in California, effective 8:00 a.m. on Saturday, September 19. However, the Six Rivers and Klamath National Forests remain entirely closed, and parts of the Shasta-Trinity National Forest around the Red Salmon Fire are closed. As hunting season opens, hunters are reminded that the closures are in place for their safety as well as the safety of firefighters.
Road and highway closure information can be found on the California Department of Transportation website. 
Basic Information
Incident Type:
Wildfire
Cause:
Lightning
Date of Origin:
Monday July 27th, 2020 approx. 11:03 AM
Location:
8 miles northeast of Willow Creek, CA
Incident Commander:
Mike Strawhun - CIIMT14
Incident Description:
This Incident Is Burning In Steep Rugged Country Primarily In The Trinity Alps Wilderness Area.
Coordinates:
41.185, -123.433
Current Situation
Total Personnel:
562
Size (Acres):
108,224
Containment:
31%
Fuels Involved:
Timber (grass and understory), closed timber litter, timber (litter and understory). Mature timber with heavy duff, litter, shrubs, and grass. Steep rugged terrain with parallel ridges and drainages.
Significant Events:
Fire activity was somewhat repressed as the weather front passed over the area in the early morning. As fuels dried out, afternoon activity picked especially on the east side of the fire that received less moisture. As fuels continue to dry fire activity is expected to increase.
Planned Outlook
Planned Actions:
Planned action by Division:
DIV A/D/W/Y: not staffed.

DIV K, Continue to look for opportunities to address the fire located in the Nordheimer drainage to prevent the spread of fire toward the Salmon River Road. Utilize defensive burning operations along control lines to prevent the fire from entering McNeal Creek. Provide structure defense for structures along the Salmon River Road from the Forks of Salmon east to Hotelling Ridge.

DIV O: Provide point protection along the Salmon River Road corridor for defendable structures. Assist with burnout operations in order to reduce the threat of fire impacting structures.

DIV Q: Continue to provide structure defense to protect the community of Denny, Miller Ranch, and historical features within the East Fork of New River. Continue firing operations, weather conditions permitting, to protect the communities to the south/southwest of the incident.

DIV R/U: Hold and mop-up control lines along Tish Tang Ridge to Box Camp to protect the Hoopa Valley Reservation, Willow Creek, Salyer, Hawkins Bar, and adjacent communities. Continue firing along Lone Pine Ridge for when the fire moves into alignment in the Horse Linto Creek drainage to defend the communities along Hwy 299 and Hwy 96. Patrol and mop-up fire lines within the division to reduce the risk of escape. Assist adjacent division with burnout operations to secure control lines to reduce the spread of fire toward the Hoopa Valley Reservation, Willow Creek, Salyer, and Hawkins Bar.

Projected Incident Activity:
Firing operations were placed on hold as the weather front moved through the area and roads dried out. Weather permitting, firing operations continue to meet control objectives as crews progress along control lines in Divisions Q,R and k. Crews continue to mitigate fire threat in all staffed divisions. Fire activity in Division K continues to back into the confluence of Nordheimer Creek and China Creek. Fire has become established in the East and West forks of Knownothing Creek drainage. Crews are nearing completion of burning operations to bring the fire to the Salmon River Road. Fire continues spread in DIV P,O and Q.

In DIV R, fire continues to back into Tish Tang Creek creating alignment for future potential runs. Crews continue to bring fire along control lines within DIV R to keep the fire from spreading towards the communities to the south/southwest. Crews continue to monitor, mop-up along 10N02 Road. Spot fires continue off 10N02. Firing operations continue to take place along 10N02. Expect completion in 24-48 hours to Box Canyon. Burning operations are moving north and south on the west flank.

In DIV Q, fire continues to back downslope between Trinity Mountain and One Mile Creek prompting continued structure assessment in and around the community of Denny. A firing operation has started on Lone Pine Ridge above Horse Linto Creek to check southerly spread of the fire.

In DIV O and P, fire is currently spreading into the Trinity Alps Wilderness. The fire is currently within reach of the Hoopa Valley Reservation wildland-urban interface with potentially significant impacts to cultural and resource values and economic impact to the Hoopa Valley Tribe. Firing operations are helping to mitigate this threat.
Remarks:
Northwest Incident Management Team 10 is scheduled to shadow the incident tomorrow and transition command at 1800. There is a continued need for Type one crews to help conduct firing operations in Divisions R an Q on the southwest flank of the incident and Division K on the northeast. Incident personnel continue to keep local cooperators, tribal members and residents informed about firing operations and suppression activities on the incident. The community of Forks of Salmon has been down graded to evacuation warning status. Resources continue to time out, this coupled with limited replacements, could compromise suppression efforts.

The Shasta-Trinity National Forest has issued a fire closure, Order No. 14-20-11, for the Red Salmon incident to provide for public safety. This closure will be in effect from September 19, 2020 until the incident is declared out.
This includes Big Rock River Access on the Trinity River as well as the trail systems within the fire area will remain closed. In additional to being within the Trinity Alps Wilderness Area, the fire area spans three counties: Humboldt, Trinity, and Siskiyou.

The communities in and around the fire area are potentially threatened by Covid-19 due to the influx of incident responders from across the country. Due to a report of increased Covid-19 cases in the local community, the incident has strengthened Covid-19 mitigation protocols for crews in Orleans and the ICP in Willow Creek by limiting crew exposure to local business.

The Red Salmon Complex acres burned on each forest is as follows:
Six Rivers National Forest = 46,823
Shasta Trinity National Forest = 36,485
Klamath National Forest = 21,883
Hoopa Vally Reservation = 3,053

Weather Synopsis
Weather Concerns:
Tonight will be partly cloudy with some valley fog developing towards sunrise. Lows tonight will range from the upper 40s to the upper 50s. Humidity recovery will be generally above 85 percent, except around ridgetops where relative humidity will fall to near 40 percent. A south to southwest wind will prevail between 3 and 8 mph with slightly higher speeds on the ridgetops.

Incident Contact
Incident Contact
Fire Information
Email: 2020.RedSalmon@firenet.gov
Phone: 530-316-1042
Hours: Daily 8am - 8pm
Fire Unit Information
Shasta-Trinity National Forest
U.S. Forest Service
3644 Avtech Parkway
Redding, CA 96002