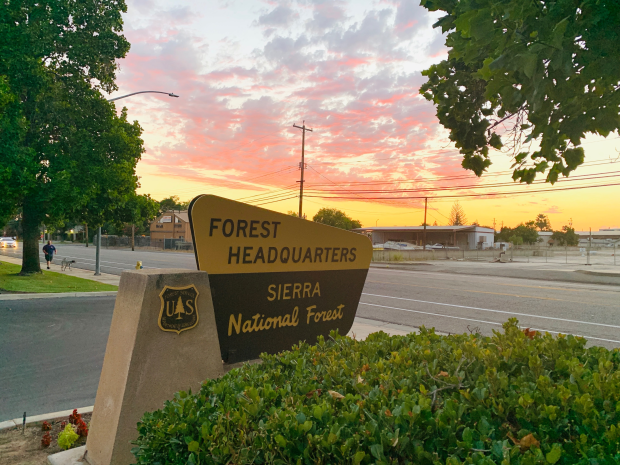 As of 8/12, there will no longer be Trimmer Fire updates unless significant activity occurs.
The Trimmer Fire, burning on the Sierra National Forest, started on Monday August 3, 2020 around 12:45pm. The fire is burning North of Pine Flat Lake in steep and rugged terrain with critically dry, receptive and flashy fuel beds. 

On August 8th firefighters were able to stop the spread of the fire and direct fire lines were completed around the perimeter. Heavy fuels and stump holes within the interior may continue to smolder and produce smoke. Firefighters will continue to monitor for smokes and extinguish areas of heat where safe to do so. 
Road Closures: 10S69 – Big Creek & Trimmer Springs Road  · Scheduled to reopen 8/12

Area Closures:  Avocado Lake County Park  · Scheduled to reopen 8/13



The public is reminded that firefighting equipment will be traveling on the roads going into the Trimmer Fire area. Please slow down and drive with extreme caution around firefighters and firefighting equipment. The safety of firefighters and the public remain our top priority.

 
Remember: One Less Spark – One Less Wildfire. For more information about wildfire prevention please visit: http://www.preventwildfireca.org/OneLessSpark/

The communities within close proximity can expect to be potentially impacted by varying degrees of smoke for the next couple days. You can learn more about air quality, and daily smoke forecasts by visiting either www.airnow.gov or www.valleyair.org.
Basic Information
Incident Type:
Wildfire
Cause:
Under Investigation
Date of Origin:
Monday August 03rd, 2020 approx. 12:45 PM
Location:
Approximately 1/2 mile southeast of Big Creek Road and Trimmer Springs Road intersection.
Incident Commander:
Sierra National Forest
Coordinates:
36.899, -119.24
Current Situation
Total Personnel:
134
Size (Acres):
594
Containment:
98%
Estimated Containment Date:
Saturday August 15th, 2020 approx. 12:00 AM
Fuels Involved:
Timber (grass and understory), chaparral
Significant Events:
Fire behavior remains minimal on the incident. Remaining heat is in scattered larger fuels from dead and down oak trees and is confined to the interior of the fire area.
Planned Outlook
Planned Actions:
Continue patrol and mop up in all Divisions and suppression repair work along hand lines in Division Z. California Incident Command Team 10 is preparing for transfer of command back to the Sierra National Forest on 8/12/20 at 0700.
Projected Incident Activity:
Continue mop up work along Divisions A, M and Z where needed. Suppression repair work will continue in Divisions A and Z focused mainly along hand constructed control lines to prevent unauthorized OHV use of these areas and mitigate potential resource damage from soil erosion caused by future rain events. Road closure along Trimmer Springs Road will be lifted.
Weather Synopsis
Weather Concerns:
Weather over the fire area will remain hot and dry with temperatures in the mid 90's to low 100's and humidity values from 20-25% recovering to 47 to 52% overnight. Moist air over the higher elevations of the Sierra Nevada have created conditions for afternoon thunderstorms at the crest of the Sierras to the east of the fire area. This has a slight potential to create an adverse condition for downdraft winds should there be a collapse of thunderstorms up Middle Fork of the Kings River Canyon to the east. Lightning from these storms has started 2 new fires on the forest in the John muir wilderness near Florence Lake.
Incident Contact
Incident Contact
Sierra National Forest
Phone: 559-297-0706 ext. 4999
Fire Unit Information
Sierra National Forest
U.S. Forest Service
1600 Tollhouse Road
Clovis, CA 93611
Dispatch Contact
Sierra National Forest Center
| Fresno, CA