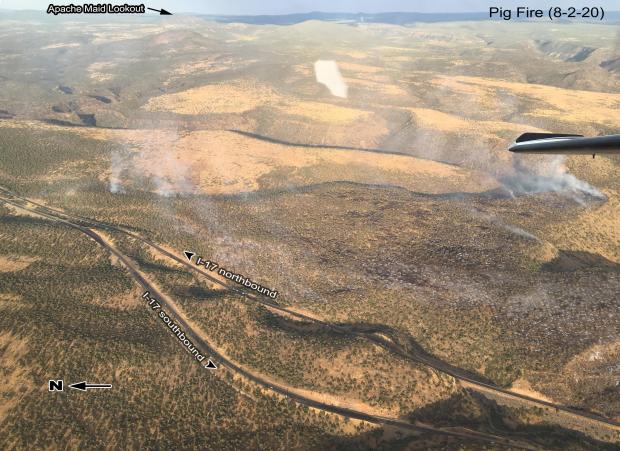 The Pig Fire, named due to its proximity near Pig Trough Tank, was reported about 4:45 p.m. the evening of Aug. 1, 2020 and started on the east side of the northbound lane of I-17 from a hot piece of a faulty catalytic converter. Firefighters kept the perimeter of the fire at about 500 acres and fully contained the fire on Aug. 16, 2020.
Basic Information
Incident Type:
Wildfire
Cause:
Piece From Faulty Catalytic Converter
Date of Origin:
Saturday August 01st, 2020 approx. 04:45 PM
Location:
Approx. 5 miles s/se of Village of Oak Creek
Incident Commander:
Anthony Acheson
Coordinates:
34.713, -111.727
Size (Acres):
500
Containment:
100%
Estimated Containment Date:
Sunday August 16th, 2020 approx. 12:00 AM
Fuels Involved:
Pinyon juniper, grass, brush
Planned Outlook
Planned Actions:
Fire has been contained.
Incident Contact
Incident Contact
Brady Smith
Email: brady.smith@usda.gov
Phone: 928-310-6817
Hours: 0800-1630
Fire Unit Information
Coconino National Forest
U.S. Forest Service
1824 S. Thompson St.
Flagstaff, AZ 86001
Dispatch Contact
Flagstaff Interagency Dispatch Center
| Flagstaff, AZ
Phone:
928-526-0600