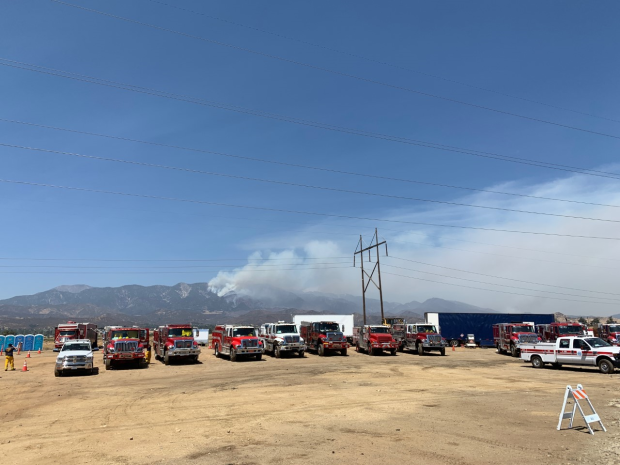 Current Situation: The fire was active last night on the east and west flanks. Ground crews continued to build line in the area of Pine Bench and made good progress on the western perimeter east of Oak Glen. Line building will continue today up to Yucaipa Ridge and is a high priority to protect the Forest Falls and Oak Glen communities. An additional base camp is being established at Yucaipa Ridge Park to support firefighters working in this area.

The fire was also very active overnight in Millard Canyon. Crews built direct line with supplement night air drops in this area. Firefighters will continue line construction today in Millard Canyon and continue north to Whitewater Canyon to limit fire growth to east.

Evacuations / Closures: Evacuation Orders for Riverside County have been lifted. Evacuation Warnings are still current. Residents: please visit https://www.rivcoready.org/ActiveEvents for an interactive map that will allow you to enter your address to determine if you are in an evacuation area.

For San Bernardino County Residents: The community of Oak Glen remains under an evacuation order. Forest Falls, Pioneertown, and Rimrock are all under an evacuation warning.

The San Gorgonio Wilderness has been closed to all use. An Emergency Forest Closure Order is in effect as of August 2, 2020. The order prohibits all entry into the San Gorgonio Wilderness and some adjacent areas. This order also includes the Pacific Crest Hiking Trail between the Forest Boundary and Forest Road 1N01. Additionally, all Forest Service recreation areas in the Forest Falls area are closed. Fire restrictions have increased across the San Bernardino National Forest. Please refer to the Forest web page at https://www.fs.usda.gov/sbnf for additional details.

Evacuation Center: San Bernardino County residents remaining under the Oak Glen Evacuation Order may contact The American Red Cross at (571) 595-7774. The evacuation center at Beaumont High School has closed.

Road Closures: All road closures in Riverside County have been lifted. In San Bernardino County the following closures are current: Oak Glen Road at Wildwood Canyon, Oak Glen Road at El Dorado Park and Highway 38 at Valley of the Falls.

Weather: The morning marine layer will keep temperatures cooler longer for firefighters but afternoon winds will increase over the fire area.


Safety Message: In addition to dealing with the inherent hazards of fighting a wildland fire, firefighters are taking precautions to prevent the spread of COVID-19 by limiting inter-crew face-to-face interactions to what is operationally necessary to engage the fire safely.
There is a temporary flight restriction over the fire and vicinity. It is illegal to fly drones within the restricted area. Remember, "When you fly, we can't".
Smoke Outlook: Expect similar Apple Fire smoke conditions as previous days but with less smoke. In the early morning hours, smoke from the fire will be pushed southeast into the I-10 corridor. The communities of Desert Hot Springs, Palm Springs, Indio, and surrounding communities will receive smoke. As the day progresses, smoke will travel eastward towards Highway 62 with the communities of Morongo Valley, Yucca Valley, Landers, 29 Palms, Joshua Tree, and Desert Hot Springs effected.
Basic Information
Incident Type:
Wildfire
Cause:
Human Caused
Date of Origin:
Friday July 31st, 2020 approx. 05:00 PM
Location:
Oak Glen, Banning Canyon
Incident Commander:
USFS, M. Minton
CALFIRE, T. Hopkins
Riverside County Sheriff, Salas
CHP, Ramos
City of Yucaipa
Coordinates:
33.998, -116.933
Current Situation
Total Personnel:
2,578
Size (Acres):
27,319
Containment:
30%
Estimated Containment Date:
Monday August 17th, 2020 approx. 12:00 AM
Fuels Involved:
The fire is burning in an area with no recent fire history. As the fire burns into the wilderness the fuels become decadent chaparral and timber that has experienced beetle kill on the ridge tops. As it progresses east it will burn into areas where fuels are not as dense.
Significant Events:
Flanking and backing fire, short range spotting from wind and rollout.

Planned Outlook
Planned Actions:
Perimeter control, construct direct and indirect control lines, structure defense, and scout out contingency lines.
Projected Incident Activity:
Main fire progression will continue to the northeast into the wilderness.
Remarks:
Weather Synopsis
Weather Concerns:
Cooler conditions prevailed across the incident today as high pressure weakened. With the cooler temperatures, relative humidity was a bit higher. Gusty onshore winds prevailed with gusts around 20 mph in the afternoon and evening.

For Tuesday night and Wednesday, the cooling trend will continue with a slight uptick in relative humidity. Afternoon winds will be a bit stronger with gusts near 25 MPH in some areas.
Incident Contact
Incident Contact
Public Information Call Center
Email: 2020.apple@firenet.gov
Phone: 909-383-5714
Hours: M-S 7AM-7AM (24 hrs)
Fire Unit Information
San Bernardino National Forest
U.S. Forest Service
602 S. Tippecanoe Ave.
San Bernardino, CA 92408
Dispatch Contact
Federal Interagency Communication Center
| San Bernardino, CA
Phone:
909-383-5652
Website:
https://www.fs.usda.gov/detail/sbnf/landmanagement/resourcemanagement/?cid=stelprdb5165957