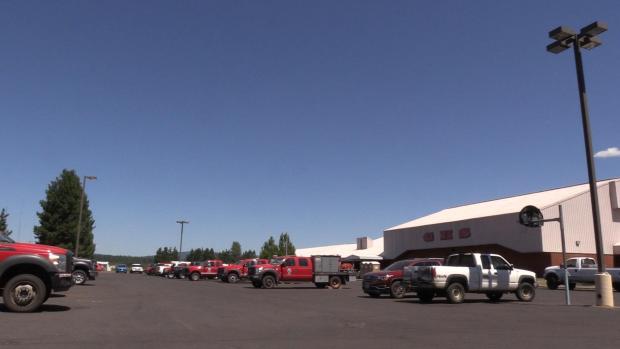 This will be the last update on the Bertschi Road Fire. Please contact WA Department of Natural Resources at (509) 925-8510 after 4:00 pm today for further information.
Northwest Incident Management Team 10 (NWT10) will be transitioning the Bertschi Road Fire to a Type 4 Incident Management Team (IMT) today at 4:00 pm.   A small contingent of resources, including one task force leader, one strike team leader, one strike team of engines, and one twenty person crew will remain with the Type 4 IMT. 
Basic Information
Incident Type:
Wildfire
Cause:
Under Investigation
Date of Origin:
Thursday July 16th, 2020 approx. 03:00 AM
Location:
South of the town of Glenwood, WA
Incident Commander:
Alan Lawson
Incident Description:
Wildfire
Coordinates:
45.937, -121.304
Current Situation
Total Personnel:
304
Size (Acres):
250
Containment:
90%
Estimated Containment Date:
Saturday July 25th, 2020 approx. 12:00 AM
Fuels Involved:
Heavy Logging Slash
Timber (Litter and Understory)
Short Grass (1 Foot)
Significant Events:
Minimal Smoldering
Planned Outlook
Planned Actions:
Divisions A & Z will grid mop up and back haul. All resources on all divisions and equipment group, except those staying with the type 4 team will be demobed at end of shift.
Projected Incident Activity:
No expected spread
Remarks:
This will be the final 209 for this incident. Transition to type 4 organization will occur at 1800 on 07/24. NW Team 10 would like to thank all agencies and cooperators for support during the duration of this incident.
Weather Synopsis
Weather Concerns:
Breezy conditions overnight.
Incident Contact
Incident Contact
Fire Information
Email: 2020.BertschiRoad@Firenet.gov
Phone: (509) 364-3438 ext. 205
Hours: Mon.-Sun. 7am-8pm
Fire Unit Information
Southeast Region-Department of Natural Resources
Washington
Ellensburg , WA 98926
Dispatch Contact
Central Washington Interagency Center
| Wenatchee, WA
Phone:
509-884-3473
Website:
https://gacc.nifc.gov/nwcc/districts/CWICC