Last Updated:
27 mins, 47 secs ago
Incident #:
2020-COWRD-000165
Fire Start:
Monday, July 13, 2020 10:17 AM MDT
Fire Unit:
Bureau of Land Management — White River Field Office
Dispatch Notes:
Co-wrd-165iqcs: 500937 | Contain: 07/18/20 1345 | Control: 09/10/20 0800 | Out: 09/10/20 1000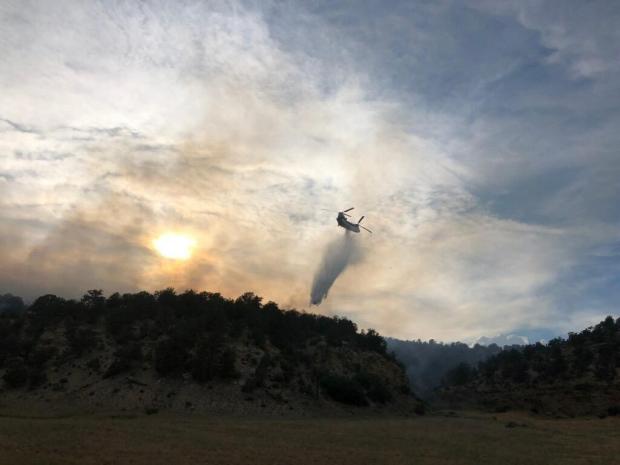 The Stewart Fire started on the afternoon of July 13, 2020. The Rocky Mountain Area Incident Management Type 2 Blue Team assumed command of the Fawn Creek, Stewart, and Wolf Fires all in Rio Blanco County on Wednesday, July 15 at 0600. The Stewart Fire was declared 100% contained on July 18, 2020.
Basic Information
Incident Type:
Wildfire
Cause:
Lightning
Date of Origin:
Monday July 13th, 2020 approx. 10:15 AM
Location:
22 miles SW of Meeker, CO
Incident Commander:
Michael Haydon
Coordinates:
39.793, -108.195
Current Situation
Total Personnel:
4
Size (Acres):
212
Containment:
100%
Estimated Containment Date:
Tuesday July 21st, 2020 approx. 12:00 AM
Fuels Involved:
Dormant Brush, Hardwood Slash
Timber (Grass and Understory)
Significant Events:
Minimal smoldering and creeping
Planned Outlook
Planned Actions:
Patrol status
Weather Synopsis
Weather Concerns:
Only a few widespread storms expected with warmer temperatures. Afternoon highs will reach the 90F mark with minimum humidity dropping to near 10%. Breezy westerly winds at the ridges with gusts to 25 in the afternoon.
Incident Contact
Incident Contact
Fire Information
Email: 2020.fawncreek@firenet.gov
Phone: 970-878-8283
Hours: Daily 7am - 8pm
Fire Unit Information
White River Field Office
Bureau of Land Management
Colorado
Meeker, CO 81641
Dispatch Contact
Craig Interagency Dispatch Center
| Craig, CO
Phone:
970-826-5037
Website:
https://gacc.nifc.gov/rmcc/dispatch_centers/r2crc/