Incident #:
2020-COWRD-000166
Fire Start:
Monday, July 13, 2020 1:00 PM MDT
Fire Unit:
Bureau of Land Management — White River Field Office
Fuels:
Grass, Oak Brush Pj
Dispatch Notes:
Co-wrd-166iqcs: 500942 | Contain: 07/23/20 0730 | Control: 09/10/20 0800 | Out: 09/10/20 1000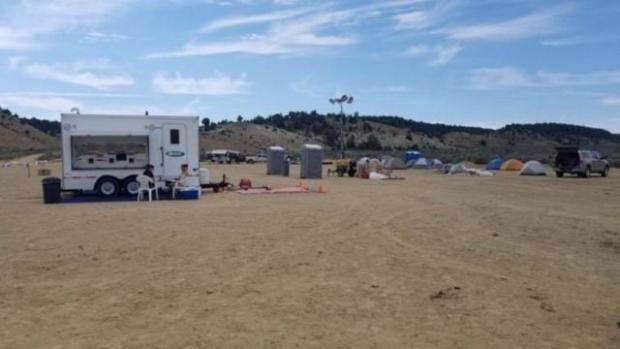 The Fawn Creek Fire started on the afternoon of July 13, 2020. It quickly grew to several hundred acres. The Rocky Mountain Area Incident Management Type 2 Blue Team assumed command of the Fawn Creek, Stewart, and Wolf Fires all in Rio Blanco County on Wednesday, July 15 at 0600. The Fire was declared 100% contained on July 23, 2020.
Basic Information
Incident Type:
Wildfire
Cause:
Lightning
Date of Origin:
Monday July 13th, 2020 approx. 12:00 PM
Location:
26 miles SW of Meeker, CO
Incident Commander:
Michael Haydon
Coordinates:
39.804, -108.362
Current Situation
Total Personnel:
3
Size (Acres):
3,226
Containment:
100%
Fuels Involved:
Timber (Litter and Understory)
Tall Grass (2.5 feet)
Significant Events:
Minimal smoldering and creeping
Planned Outlook
Planned Actions:
Monitor and patrol.
Weather Synopsis
Weather Concerns:
Mostly sunny and very warm/dry. Winds northwesterly and lighter than previous days. Poor humidity recovery into Tuesday.
Incident Contact
Incident Contact
Maribeth Pecotte
Email: 2020.fawncreek@firenet.gov
Phone: 970-724-3027
Hours: Daily 7am - 8pm
Fire Unit Information
White River Field Office
Bureau of Land Management
Colorado
Meeker, CO 81641
Dispatch Contact
Craig Interagency Dispatch Center
| Craig, CO
Phone:
970-826-5037
Website:
https://gacc.nifc.gov/rmcc/dispatch_centers/r2crc/