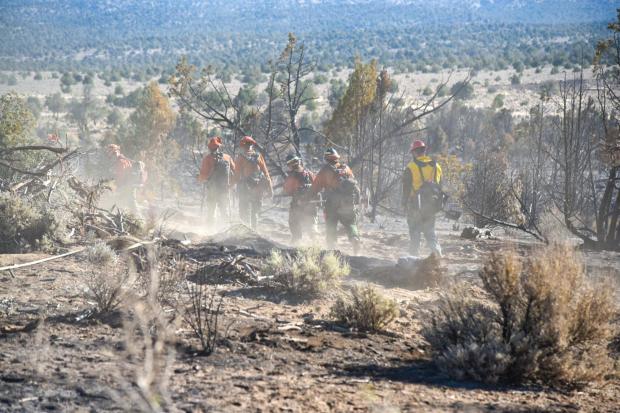 The Numbers Fire, burning 10 miles southeast of Gardnerville, Nevada, started on Monday, July 6. Multiple local, state, and federal wildland fire agencies are assisting with numerous fire resources working on the fire. Resources on scene include heavy equipment, hand crews, and aviation. 

Although the fire is at 100% containment at 18,380 acres, fire vehicles and heavy equipment will be completing suppression repair work over the next few days. Please drive cautiously in the area, and limit use of Pinenut 2 and Blossom Canyon Roads to residents only. Smoke may be visible as the fire continues to consume interior islands of unburned vegetation. 
Great Basin Incident Management Team 4 will transition control of the Numbers Fire back to the local BLM Carson City District Wednesday, July 15. Thank you for the ongoing community and partner assistance and support.  
Structures lost/damaged per Douglas County assessment:
• 3 structures
• 37 outbuildings
The Numbers Fire is burning on the Bureau of Indian Affairs Western Nevada Agency. The allotment land is protected by the Carson City District of the Bureau of Land Management Nevada.
Basic Information
Incident Type:
Wildfire
Date of Origin:
Monday July 06th, 2020 approx. 07:00 PM
Location:
Southeast of Gardnerville, NV
Incident Commander:
Great Basin Team 4 (Roide)
Incident Description:
Wildfire
Coordinates:
38.843, -119.639
Current Situation
Total Personnel:
167
Size (Acres):
18,380
Containment:
100%
Fuels Involved:
Chaparral, brush, and short grass
Weather Synopsis
Weather Concerns:
A slight chance of afternoon showers and thunderstorms will return primarily over the Sierra Crest Wednesday which could bring gusty winds to the area later Wednesday afternoon. A better chance for showers and thunderstorms exist Thursday with a Fire Weather Watch in effect for Thursday.
Incident Contact
Incident Contact
Public Information
Email: 2020.Numbers@firenet.gov
Phone: 208-296-1233
Hours: 7 AM - 8 PM
Fire Unit Information
Carson City District Office
Bureau of Land Management
5665 Mogan Mill Road
Carson City, NV 89701
Dispatch Contact
Sierra Front Interagency Dispatch Center
| Minden, NV
Phone:
775-883-5995
Website:
http://sierra-front.net/