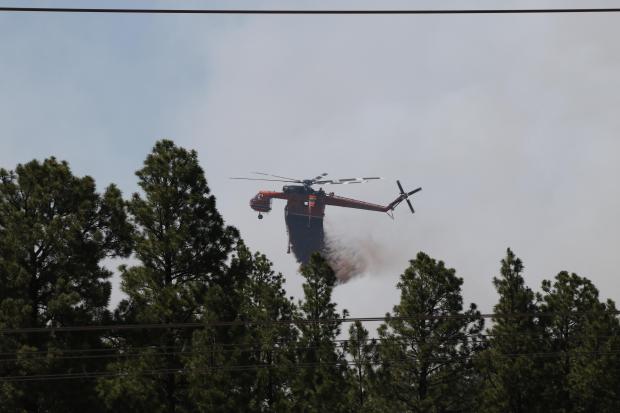 The Wood Springs 2 Fire started on June 27, 2020.  It is now approximately 12,861 acres and 83% contained. Crews have been able to complete fire line from the southwest corner up the west side of the fire to N 26, and on the southeast side up to Sage House Wash, which in west of Oak Creek Mountain. Crews have also built approximately 2-3 miles of fire line on the north end between Monument Canyon north to Route 7 and along Route 7. Crews will be securing and monitoring the remaining uncontained fire line. They also began to restore land disturbed by containment efforts, and monitor areas inside the fire that are still burning. 
The fire occurs in the Nazlini and Kinlichee Chapters of the Navajo Nation.  Portions of both of these chapters in the Fluted Rock area remain on high alert for evacuation due to the fire. Sawmill is no longer on high alert.
Smoke: Less smoke is expected today because fuel inside the perimeter of the fire has been consumed and showers reduced smoldering. As the weather gets hotter over the next few days remaining fuels may produce more smoke.  
Hot and dry weather will continue to support active fire spread through unburned interior pockets of the fire. 
Basic Information
Incident Type:
Wildfire
Cause:
Lightning
Date of Origin:
Saturday June 27th, 2020 approx. 02:00 PM
Location:
12.5 miles NE of Ganado, AZ
Incident Commander:
Mark Bernal
Coordinates:
35.84, -109.378
Current Situation
Total Personnel:
309
Size (Acres):
12,861
Containment:
96%
Estimated Containment Date:
Friday July 17th, 2020 approx. 08:00 PM
Fuels Involved:
Ponderosa pine. Sage along drainage bottoms and openings. Some pinyon-juniper in the lowest elevations of the fire.
Significant Events:
Any unburned fuel continued to be consumed by the fire. Heat sources along containment lines continued to smolder and creep.
Planned Outlook
Planned Actions:
Crews are holding, securing, and mopping up primary containment lines in all divisions. Suppression repair will continue in all divisions. Aircraft are being used for reconnaissance when needed.
Projected Incident Activity:
Fire activity may increase because of lower humidity, increasing winds, and more sunshine.
Weather Synopsis
Weather Concerns:
Tomorrow there will be an increase in relative humidity values and a reduction in wind speeds. The Haines Index will be 5. This weather will continue to moderate any fire behavior in residual unburned fuels. A Haines Index this weekend and an increased chance of thunderstorms will potentially increased fire behavior.
Incident Contact
Incident Contact
Navajo Dispatch
Phone: 927-729-2307
Hours: 9AM-4PM
Fire Unit Information
Navajo Region Fire and Aviation Management
Bureau of Indian Affairs
Navajo Route 12 Bldg #264 Ft. Defiance AZ 86504 Arizona
Window Rock, AZ 86515