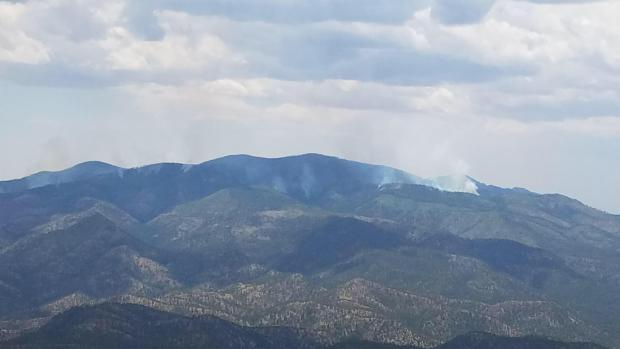 The Vics Peak Fire started on the Magdalena Ranger District of the Cibola National Forest on 6/15/2020 from a lightning strike. The fire is burning near Vics Peak toward the southern end of the San Mateo Mountains in mixed conifer and ponderosa pine at the higher elevations and pinyon/juniper and mountain mahogany at the mid-elevations. The fire is burning in the Apache Kid Wilderness.  A local type 4 incident management team from the Magdalena Ranger District is assigned to the fire.  
Basic Information
Incident Type:
Wildfire
Cause:
Lightning
Date of Origin:
Monday June 15th, 2020 approx. 12:33 PM
Location:
Vics Peak, Springtime Campground
Incident Commander:
Thomas Lopez ICT4
Coordinates:
33.57, -107.442
Size (Acres):
14,624
Containment:
100%
Estimated Containment Date:
Tuesday August 04th, 2020 approx. 12:00 AM
Fuels Involved:
Timber (litter and understory), Timber (grass and understory)
Significant Events:
Minimal short crown runs, wind-driven runs, backing. Primary backing and creeping. Occasional single tree torching.
Projected Incident Activity:
12 Hrs: Minimal fire behavior observed. Fire will continue, as conditions allow. Areas of interior burning, smoldering and creeping will continue, but overall, minimal smoke has been observed in the last seven days. Expect that fire will continue to exhibit minimal behavior with chance of showers and elevated humidity.
Weather Synopsis
Weather Concerns:
The monsoon is finally here. The weather will be active through next week with daily rounds of wetting showers and thunderstorm. Storms motion will be slow and erratic. Heavy rain could produce isolated flash flooding, especially over recent burn scars.
Incident Contact
Incident Contact
Cindy Wolfe
Email: 2020.vicspeak@firenet.gov
Phone: 575-418-7875
Fire Unit Information
Cibola National Forest
U.S. Forest Service
2113 Osuna Rd. NE
Albuquerque, NM 87113
Dispatch Contact
Albuquerque Interagency Dispatch Center
| Albuquerque, NM
Phone:
505-346-2660
Website:
https://gacc.nifc.gov/swcc/dc/nmabc/index.htm