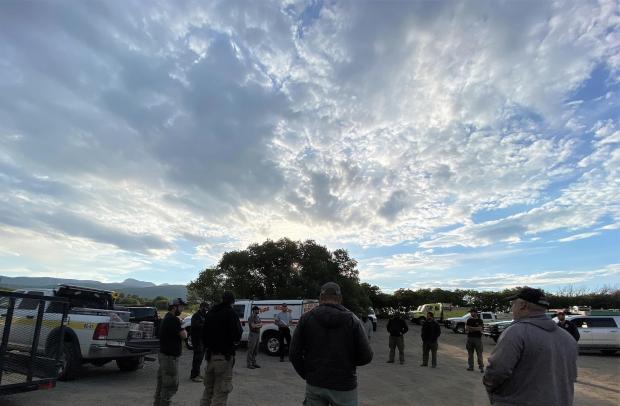 The East Canyon Fire was detected on Sunday June 14, at 12:41 p.m. The lightning-caused fire began on Bureau of Land Management (BLM) land located a ridge east of Menefee Mountain near Mancos, Colorado. It is located on BLM and private land along Cherry Creek Road (CR-105) in La Plata and Montezuma Counties. The terrain is a mesa with numerous canyons off all sides. Access is very limited and difficult, making the use of aircraft essential. The pre-positioned Durango Interagency Type 3 team responded to the initial attack and managed the fire until the Rocky Mountain Type 2 Blue Team assumed command of the fire on Tuesday June 16, 2020. The fire transitioned back to a Type 3 organization on Wednesday, June 24 at 6:00 a.m.
Basic Information
Incident Type:
Wildfire
Cause:
Lightning
Date of Origin:
Sunday June 14th, 2020 approx. 12:41 PM
Location:
19 miles from Cortez
Incident Commander:
Mike Megel, Type 3 Incident Commander
Coordinates:
37.278, -108.256
Current Situation
Total Personnel:
11
Size (Acres):
2,905
Containment:
100%
Estimated Containment Date:
Saturday June 27th, 2020 approx. 12:00 AM
Fuels Involved:
Timber (grass and understory)
Dormant brush, hardwood slash

A mix of timber, oak brush and pinon juniper.
Significant Events:
Minimal
Smoldering
Planned Outlook
Planned Actions:
Mop up and patrol fire line.
Projected Incident Activity:
12 hours: Minimal fire behavior. Most fuels have been mopped up or consumed. Fire movement is not expected due to successful suppression actions. Risk of new starts with problem fire behavior while critical fuel and weather conditions persist.

24 hours: Same
48 hours: Same
72 hours: Same
Anticipated after 72 hours: Same
Weather Synopsis
Weather Concerns:
Low fuel moisture with potential for rapid and extreme fire behavior. Thursday will bring similar, warm temperatures, low humidity, and winds and also a chance for virga or isolated dry thunderstorms in the afternoon.
Incident Contact
Incident Contact
Fire Information
Email: 2020.eastcanyon@firenet.gov
Phone: 970-335-9664
Hours: 8 a.m. to 8 p.m. daily
Fire Unit Information
Tres Rios Field Office
Bureau of Land Management
Colorado
CO