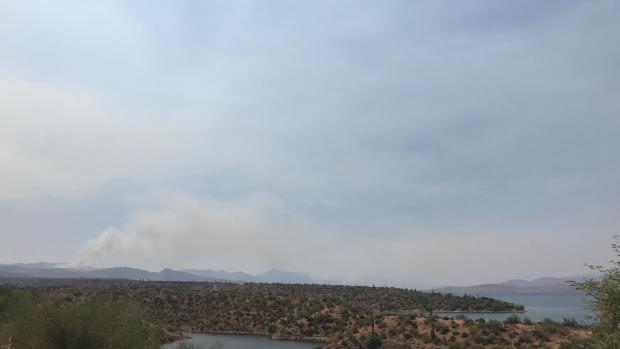 Final Update
July 1, 2020  - Bush Fire Bush Fire - FINAL UPDATE Acres: 193,455acres (no change)                                                             Percent Containment: 98% (no change) Start Date: Saturday, June 13, 2020                                                          Cause: Human-caused Origin Location: 22 miles NE of Mesa, AZ                                              Fuels: Tall grass and brush Resources: approx. 75 personnel   FINAL UPDATE - The Bush Fire remains 98% contained. Interior burning activity and smoke may be present until the fire area receives widespread moisture from monsoons. The Arizona Central West Zone Type 3 Incident Management Team is working with the Tonto National Forest to transition management to the forest on July 2, 2020.
Emergency Stabilization-Burned Area Emergency Response (BAER) assessments are in progress. For more information, visit:https://inciweb.nwcg.gov/incident/6803/ The Tonto National Forest has an area closures surrounding the Bush and Central Fires. Fire restrictions remain in place. Details are available at https://www.fs.usda.gov/alerts/tonto/alerts-notices. For your safety and ours, please drive with caution. Firefighters continue to work along Highway 87 and 188. Drivers should expect fire personnel and cooperators to be working on highway shoulders and should use extreme caution. Slow down and watch for firefighters working along the highways. Please not stop along the road in the fire area. Road Status Information: https://az511.com/ or call 511  Evacuation Status: READY – No active evacuations. Learn more about "Ready-Set-Go Arizona" and sign up for emergency notifications for your county: https://ein.az.gov/ready-set-go Smoke Outlook: https://fires.airfire.org/outlooks/CentralArizona.
Wildfires are a No Drone Zone. If you fly, we can't. Every time a drone is spotted near the fire all aircraft are grounded until we can be sure the drone is clear of this area. More info visit http://knowbeforeyoufly.org.   Fire Information: 928-351-7596 (public)                                                 Inciweb: https://inciweb.nwcg.gov/incident/6773/                           Facebook:Fb.com/bushfireinfo Email: 2020.bush@firenet.gov                          Twitter: twitter.com/TontoForest
Basic Information
Incident Type:
Wildfire
Cause:
Human-caused
Date of Origin:
Saturday June 13th, 2020 approx. 02:00 PM
Location:
Up to 38 miles northeast of Mesa, AZ along Hwy 87.
Coordinates:
33.629, -111.564
Current Situation
Total Personnel:
20
Size (Acres):
193,455
Containment:
100%
Significant Events:
CWZ Type 3 Team will transition the incident back to Tonto National Forest Management 7/2.
Remarks:
FINAL UPDATE
Weather Synopsis
Weather Concerns:
Smoke may appear on the interior until rains are received in the fire area.
Incident Contact
Incident Contact
Public Fire Information
Email: 2020.Bush@firenet.gov
Phone: 928-351-7596
Hours: 8AM-7PM
Fire Unit Information
Tonto National Forest
U.S. Forest Service
2324 E. McDowell Rd
Phoenix, AZ 85006