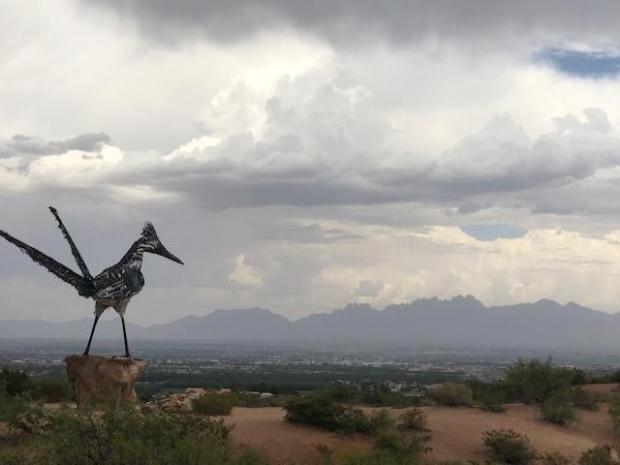 The Uvas Fire was started by lightning from a thunderstorm that moved over the southern portion of New Mexico on the evening of June 5th. The fire was detected the next day, as smoke became very visible from Hatch and travelers along I-10, and I-25. An aerial reconnaissance flight was conducted as BLM fire engines mobilized to the area. 

When first detected, the fire was burning along the top of the mountain range at an elevation of 6500 ft., surrounded by steep, rugged terrain.  
 
By the evening of June 10th, the Uvas Fire had grown to 1,135 acres with 75% containment. Firefighters have been successful in holding the line and fire behavior has moderated significantly.  
 
Thunderstorms accompanied with lightning emerged over southern New Mexico on the afternoon of June 11th.

The FINAL UPDATE for the Uvas Fire was issued on the evening of June 12th. 
  
Basic Information
Incident Type:
Wildfire
Cause:
Lightning
Date of Origin:
Saturday June 06th, 2020 approx. 03:45 PM
Location:
11 miles SW of Hatch, NM
Incident Commander:
John Selby, BLM ICT 4
Incident Description:
Wildfire
Coordinates:
32.5, -107.184
Current Situation
Total Personnel:
10
Size (Acres):
1,135
Containment:
80%
Estimated Containment Date:
Sunday June 14th, 2020 approx. 12:00 AM
Fuels Involved:
Grass, Brush, Pinion, Juniper
Planned Outlook
Planned Actions:
Continue to use natural barriers, confine and contain strategy.
Projected Incident Activity:
Minimal growth expected
Weather Synopsis
Weather Concerns:
Afternoon thunderstorms with lightning
Incident Contact
Incident Contact
Uvas Fire Information
Phone: 575-525-4360
Fire Unit Information
Las Cruces Field Office
Bureau of Land Management
New Mexico
1800 Marquess Street
Las Cruces, NM 88005