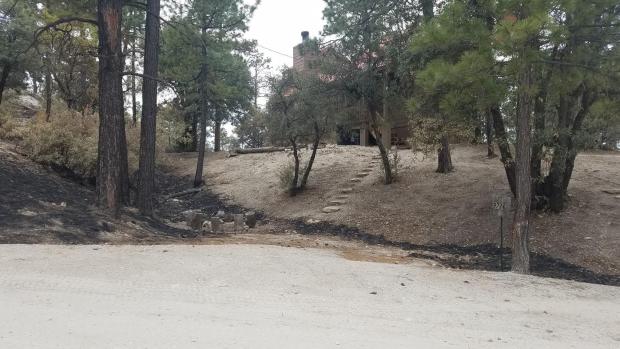 On June 5, 2020 at 10:22PM a lightning strike started the Bighorn Fire in the Catalina Mountains northwest of Tucson, Arizona on the Coronado National Forest.   
Dry, windy conditions pushed the fire closer to communities and forced evacuations. 
The Southwest Area Incident Management Team 4, led by Carl Schwope, assumed command of the Bighorn Fire on Sunday, July 5, 2020 at 6 a.m.
The fire is in steep and rugged terrain in the Pusch Ridge Wilderness and extends east to Redington Road. The fire remains approximately ½ mile north of Catalina Foothills, 3 miles south of Oracle and 3 miles east of Saddlebrooke. Due to the fire, Catalina State Park and several popular trails in the area are closed including Romero Canyon, Pima Canyon, Finger Rock, Pontatoc, Pontatoc Ridge and Linda Vista. The vegetation in the area consists of tall grass, brush, dormant brush and hardwood slash.  Improving weather conditions and increased moisture has greatly slowed fire activity, but isolated areas of heat and smoke can still found within the fire perimeter.
Smoke impacts to surrounding communities are being carefully monitored. 
Firefighters continue to monitor and patrol firelines. Incident-managed infrared drones are being used to gather important data to aid firefighters.  At this point in the incident, efforts are shifting to repairing damage and disturbance caused by fire suppression activities and stabilizing firelines in order to reduce erosion. Firefighter are retrieving, cleaning and repairing firefighting equipment and preparing it for use on future fires. Firefighters are still prepared to respond to any new fires that may occur.
Wildfires are a No Drone Zone for private drones.  A temporary flight restriction is in place over the fire area. Every time a private drone is spotted near the fire all aircraft are grounded until we can be sure the drone is clear of this area. More info visit Know Before You Fly, http://knowbeforeyoufly.org.  
Communities can expect to see crews and apparatus working in an around subdivisions in the Catalina Foothills. Members of the public are advised to drive with caution and leave roadways clear for emergency vehicles. Residents are urged to sign up to receive emergency alerts for Pima, Pinal and Chochise Counties.
To facilitate firefighting efforts and protect the safety of the public, the Coronado National Forest Santa Catalina Ranger District expanded the forest closure order. The restricted area is bounded along the Forest boundary south and east to the northeast corner of the Sabino Canyon Recreation Area, northeast along the Forest boundary to its northeastern terminus at Sabino Creek, Sabino Creek north to the Arizona Trail, the Arizona Trail northwest to the junction with Romer Trail, and the Romero Trail northwest to Catalina State Park. View the updated closure order and map at https://inciweb.nwcg.gov/incident/closures/6741/.

Fire Information Phone Line: (520) 329-7439, 8AM-8PM
Media Phone Line: (520) 329-7640, 8AM-8PM 
InciWeb: https://inciweb.nwcg.gov/incident/6741/  
Facebook: www.facebook.com/bighornfireinfo
Smoke Outlook: https://wildlandfiresmoke.net/outlooks/EasternArizona   
Basic Information
Incident Type:
Wildfire
Cause:
Lightning
Date of Origin:
Friday June 05th, 2020 approx. 10:00 PM
Location:
Northeast of Tucson
Incident Commander:
Southwest Area Team 4, Carl Schwope IC
Incident Description:
Wildfire
Coordinates:
32.378, -110.943
Current Situation
Total Personnel:
475
Size (Acres):
119,020
Containment:
75%
Fuels Involved:
Short Grass (1 foot)

Brush (2 feet)

Hardwood Litter

Primary fuels on the southern and western portions of the fire in Esperero, West Fork of Sabino Canyon,and Lemmon Creek, as well as along the western flank of Samaniego Ridge are short grasses and short brush. Fuels within CDO Canyon at the head of the fire are short grasses on the tops and sides of the rolling hills with mesquite and denser shrubs such as manzanita in the drainage bottoms. Pockets of timber with an understory of brush are found within upper elevation canyons in the vicinity of Mt.Lemmon. Within the old Burro Fire, fuel models change to a grass type that is more continuous than the surrounding area.
Significant Events:

Moderate

Backing

Flanking

Creeping

Burning conditions have been moderated due to favorable weather conditions. While upslope runs are still possible, shorter burn windows exist. In areas where fire is still established, they are filling in instead of actively advancing.
Projected Incident Activity:
Continued favorable weather will likely hamper forward spread. Active patches of isolated fuels may clean up islands of unburned fuels. Single tree torching possible. Threats to structures is minimal.
Remarks:
Weather Synopsis
Weather Concerns:

Sunday through Wednesday, It will be a hotter than normal period with average humidity levels and a chance of afternoon thunderstorms Tuesday and Wednesday. Minimum humidity levels will be around 15% in the valleys and 25 to 30% across the ridges with good overnight recoveries. Temperatures will peak around 106 in the valleys Sunday and Monday, about 5 degrees warmer than normal, before slowly decreasing Tuesday onward. Winds will generally be light with a 5 to 15 mph northwest breeze most afternoons with the exception of the potential for strong, gusty and erratic winds due to thunderstorms.
Incident Contact
Incident Contact
Public Information Phone Line
Phone: 520-329-7439
Hours: M-F 8am-8pm SS 8am-8pm
Fire Unit Information
Coronado National Forest
U.S. Forest Service
300 W. Congress St.
Tucson, AZ 85701