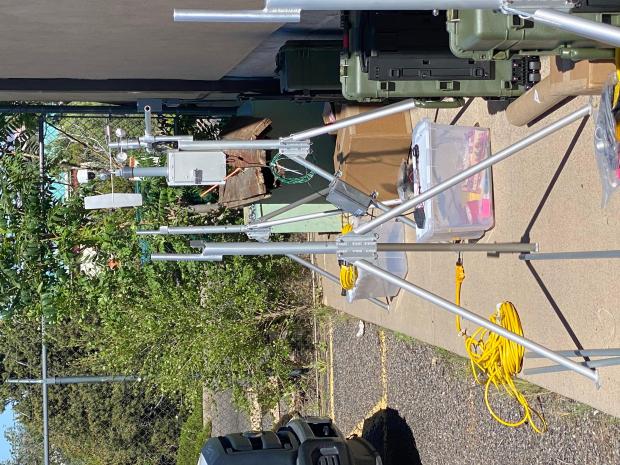 The Turkey Fire will no longer be updated. The Turkey Fire and the Good Fire are close enough together that fire managers will manage it as one incident which will most likely be called the Good Fire.
Basic Information
Incident Type:
Wildfire
Cause:
Lightning
Date of Origin:
Saturday June 06th, 2020 approx. 08:15 AM
Location:
3 miles southeast of the Gila Cliff Dwellings National Monument
Incident Commander:
J.Butler, ICT3
Coordinates:
33.183, -108.25
Current Situation
Total Personnel:
41
Size (Acres):
1,100
Estimated Containment Date:
Wednesday July 15th, 2020 approx. 12:00 AM
Fuels Involved:
Timber, grass and understory, brush and tall grass.
Significant Events:
moderate, flanking, backing, creeping
Planned Outlook
Planned Actions:
Keep fire south of Little Creek.
Projected Incident Activity:
Fire is projected to spread to the south, with minimal spread to the east, west and north.
Weather Synopsis
Weather Concerns:
Smoke continues to drift north from the Tadpole, Good and Turkey Fires as southerly winds continue over the region. Winds remain southerly tonight into Thursday. Elevated smoke may drift into portions of Sierra County tonight. In addition, showers and thunderstorms will possible across much on Thursday with dry lightning and gusty winds the threats. An isolated shower and thunderstorm threat will remain across the Continental Divide and into portions of the Gila through the weekend with minimum RH's near 20% across area mountains. Temperatures remain right around average through early next week and vent rates will be mainly very good to excellent through the weekend.
Incident Contact
Incident Contact
Marta Call
Email: marta.call@usda.gov
Phone: 575-519-0103
Hours: M-F 7-7; S-S 8-6
Fire Unit Information
Gila National Forest
U.S. Forest Service
3005 E. Camino del Bosque
Silver City, NM 88061
Dispatch Contact
Silver City Interagency Dispatch Center
| Silver City, NM
Phone:
575-538-5371
Website:
https://gacc.nifc.gov/swcc/dc/nmsdc/