Incident #:
2020-NMGNF-000232
Fire Start:
Saturday, June 6, 2020 2:51 PM MDT
Fire Unit:
US Forest Service — Gila National Forest
Dispatch Notes:
So#18 do#5 controlled 8/6/20 @1142 | Contain: 07/16/20 1825 | Control: 08/06/20 1142 | Out: 10/08/20 1030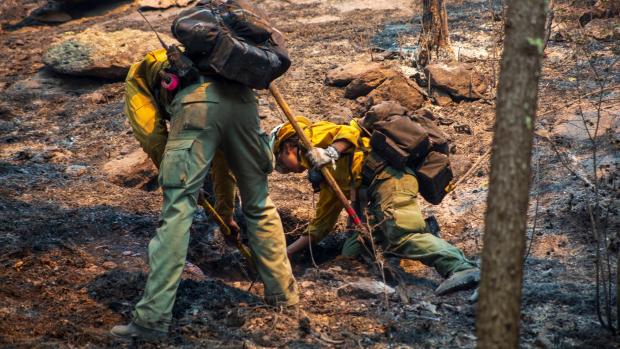 The Tadpole Fire is 11,159 acres and 95% contained. The fire will be transitioning to a district-level Type 5 Incident Management Team, with Adam Mendez as the ICT5, and Jose Delgado as ICT5 trainee. Gates have been installed on the Sheep Corral Road and Trout Creek Road, and will continue to be closed due to potential debris and water flow with the onset of monsoons.
No further updates will occur.
Basic Information
Incident Type:
Wildfire
Cause:
Lightning
Date of Origin:
Saturday June 06th, 2020 approx. 01:45 PM
Location:
Tadpole Ridge, 2.5 miles north of Pinos Altos NM.
Incident Commander:
E. Huerta, ICT4
Incident Description:
Wildfire
Coordinates:
32.954, -108.273
Current Situation
Total Personnel:
19
Size (Acres):
11,159
Containment:
100%
Estimated Containment Date:
Saturday July 18th, 2020 approx. 12:00 AM
Fuels Involved:
Timber (grass, understory), brush (2 ft), chaparral (6 ft)
Significant Events:
Minimal, smoldering
Planned Outlook
Planned Actions:
Fire will be transitioning to a Type 5 Incident Management Team as of 7/15/2020.
Projected Incident Activity:
Fire stops moving in Wilson Creek. Fire stops spreading to the west around private in-holding.Rehab is continuing.
Weather Synopsis
Incident Contact
Incident Contact
Marta Call
Email: marta.call@usda.gov
Phone: 575-519-0103
Hours: M-F 7-7; S-S 10-5
Fire Unit Information
Gila National Forest
U.S. Forest Service
3005 E. Camino del Bosque
Silver City, NM 88061
Dispatch Contact
Silver City Interagency Dispatch Center
| Silver City, NM
Phone:
575-538-5371
Website:
https://gacc.nifc.gov/swcc/dc/nmsdc/