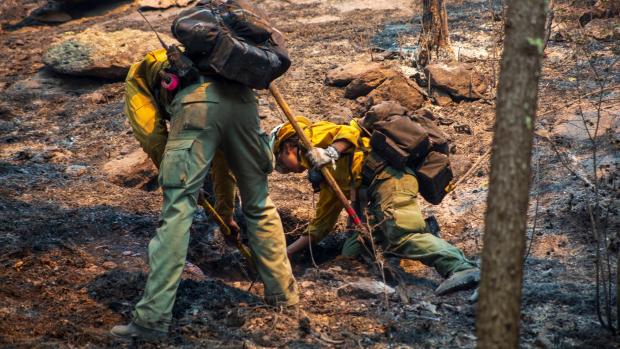 Location:  5 miles north of Pinos Altos, NM                                      Size:  ~ 11,159 acres
Start Date:  June 06, 2020                                                                     Cause:  Lightning            Vegetation:  Trees and Brush                                                              Containment: 70%   Strategy/Summary:   The Tadpole Fire has not advanced in the last few days. Interior smokes are being monitored by fire crews. Crews continue to monitor fire lines and check for hotspots. Highway 15 has been reopened. When traveling for the holiday weekend use caution at all times. Fire crews and apparatus will be present throughout the holiday weekend.  For public safety the fire area closure remains in effect.     Weather: Warm and dry conditions are predicted for the fire area. Minimum relative humidity will be in the teens along and west of the river while 20s are expected east on Saturday. Relative humidity will fall into the teen's area wide for the lowlands Sunday. Winds will be generally in the 5-15 mph range.   For information on the Gila National Forest, check out our website at: https://www.fs.usda.gov/gila or join the conversation on Facebook and Twitter.
Basic Information
Incident Type:
Wildfire
Cause:
Lightning
Date of Origin:
Saturday June 06th, 2020 approx. 01:45 PM
Location:
Tadpole Ridge, 2.5 miles north of Pinos Altos NM.
Incident Commander:
B. Trujillo, ICT4
Incident Description:
Wildfire
Coordinates:
32.954, -108.273
Current Situation
Total Personnel:
22
Size (Acres):
11,159
Containment:
74%
Estimated Containment Date:
Saturday July 18th, 2020 approx. 12:00 AM
Fuels Involved:
Timber (grass, understory), brush (2 ft), chaparral (6 ft)
Significant Events:
Minimal, smoldering
Planned Outlook
Planned Actions:
Monitor fire behavior along TX Mtn., Wilson Creek and NM Hwy 15;use direct suppression tactics in Wilson to stop fire spread. Continue to monitor private in-holding. Rehab work continuing on fire.
Projected Incident Activity:
Fire stops moving in Wilson Creek. Fire stops spreading to the west around private in-holding.Rehab is continuing.
Weather Synopsis
Weather Concerns:
Storm chances this evening will remain east of the Rio Grande River, focusing on the Sacramento Mountains, with wind and dry lightning being the biggest impacts. Perhaps some locally heavy rain in eastern Hudspeth county. Max RH recovery tonight will be 30s/40s far west to 70 far east. Tomorrow and Wednesday, increased moisture will move storm chances to east of the Continental Divide, where terrain will help spark storms. The best chance of rain will continue to be over the Sacs, with strong downburst winds, and localized flooding. Min RH will be single digits/teens east of the Rio Grande River, 20s/30s west of the RGR. However wind will remain around 10-15 mph. Max vent rates will range from fair (east) to very good/Excellent (west).
Storm chances will decrease by midweek as we enter a period of very hot and dry weather. Winds should also remain light. Temperatures look to reach nearly 10 degrees above normal by next Friday.
Incident Contact
Incident Contact
Marta Call
Email: marta.call@usda.gov
Phone: 575-519-0103
Hours: M-F 7-7; S-S 10-5
Fire Unit Information
Gila National Forest
U.S. Forest Service
3005 E. Camino del Bosque
Silver City, NM 88061
Dispatch Contact
Silver City Interagency Dispatch Center
| Silver City, NM
Phone:
575-538-5371
Website:
https://gacc.nifc.gov/swcc/dc/nmsdc/