Last Updated:
5 months ago
Incident #:
2020-AZSCA-001418
Fire Start:
Saturday, June 6, 2020 8:49 AM MST
Fire Unit:
Bureau of Indian Affairs — San Carlos Agency
Dispatch Notes:
Contain: 06/26/20 1108 | Control: 06/30/20 1300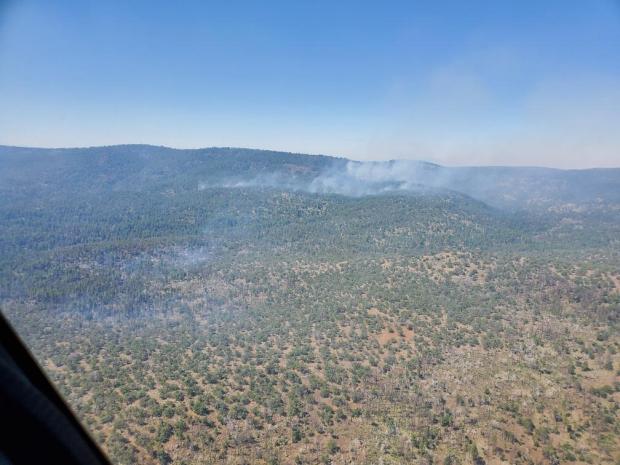 Ko' Ba Nagoni i' - Wildfires Update
Firefighters have been working to actively suppress the Blue River and the Dry Lake fires since their discovery after a June 5 thunderstorm.  
Agencies throughout the southwest have been experiencing dry and dangerous conditions with high temperatures and the concern for the COVID-19 pandemic thus creating a complex situation. San Carlos Tribal Forest Resources Program and San Carlos Agency have called the Central West Zone Type 3 Incident Management Team to assist in addressing the complexity and assist in resources management as it relates to these fires.  
 
The Central West Zone Type 3 Incident Management Team has transitioned management of the fires back to the host unit and local Type 4 Incident Commanders on 06/18/2020.
 
No further updates can be expected.
Basic Information
Incident Type:
Wildfire
Cause:
Lightning
Date of Origin:
Saturday June 06th, 2020 approx. 08:00 AM
Location:
22 mi NE of Bylas, AZ
Incident Commander:
T4IC San Carlos
Coordinates:
33.385, -109.865
Current Situation
Total Personnel:
50
Size (Acres):
4,266
Containment:
93%
Fuels Involved:
ponderosa pine,grass, brush, dead and down vegetation
Significant Events:
Transitioned fires from Type 3 IMT to host unit
Remarks:
Final Update
Incident Contact
Incident Contact
SCA Fire Info
Phone: 928-200-6358
Hours: 7 a.m. - 7 p.m.
Fire Unit Information
San Carlos Agency
Bureau of Indian Affairs
P. O. Box 209 San Carlos Arizona 85550
San Carlos , AZ 85550
Dispatch Contact
Phoenix Interagency Fire Center
| Phoenix, AZ
Phone:
480-457-1551
Website:
https://www.az-phc.com/