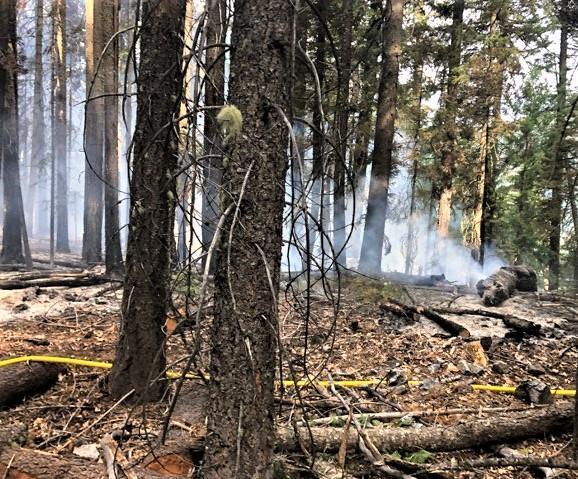 5:00 pm September 7, 2020 Monday - Lightning storms moving through the area ignited several fires during July and August. Forest officials and firefighters closely monitor and respond to these fires with aerial reconnaissance flights used to determine potential growth activity of the fires and develop appropriate response activity. The reconnaissance flights are part of our normal operating plan after lightning storms.
Listed below is each fire by the time it was reported, the name given to the fire, the approximate location, estimated fire size (if known) and current status. Any large fires will have a new incident page started in InciWeb and the link will appear next to the status.  Fires declared out are removed from this page.

Shasta McCloud Management Unit (Mt Shasta and McCloud area) 

-
Shasta Lake Ranger District and the National Recreation Area (Shasta Lake) 

-
Trinity River Management Unit (Weaverville, Big Bar, Trinity Lake and Trinity Alps)

7/27/2020 11:03 am Salmon Fire for information please see https://inciweb.nwcg.gov/incident/6891/

8/09/2020 01:55 pm Adams Fire located near Adams Lake in the Trinity Alps Wilderness Area, approximately 1/2 acre and 100% contained


South Fork Management Unit (Hayfork and Platina area)

8/17/2020
3:57 pm Spring Fire located south of Deer Lick Springs. 230 Acres, 100% contained.  For additional information go to the Spring Fire page https://inciweb.nwcg.gov/incident/7035/
  
The Hopkins Fire, burning in the Yolla Bolly-Middle Eel Wilderness on the Mendocino National Forest, has crossed the boundary onto the Shasta-Trinity National Forest. A strategic management plan for protecting values affected by this fire is currently being developed and resources are engaging the fire as it spreads out of the wilderness. The fire is being managed as part of the August Complex. More information can be found at https://inciweb.nwcg.gov/incident/7136/
Basic Information
Incident Type:
Wildfire
Cause:
Lightning
Date of Origin:
Wednesday July 22nd, 2020 approx. 08:00 PM
Location:
Shasta-Trinity National Forest
Incident Commander:
Shasta-Trinity National Forest
Coordinates:
40.462, -122.936
Fuels Involved:
Timber
Projected Incident Activity:
Recon for any new fires. Suppress active fire, and complete mop up of contained and controlled fires
Remarks:
Most fires have been contained or controlled. Larger fires now have their own pages.
Weather Synopsis
Weather Concerns:
Red Flag Warning through 9/9/2020
Incident Contact
Incident Contact
Fire Information
Phone: 530-628-0039
Hours: 8 am - 8 pm
Fire Unit Information
Shasta-Trinity National Forest
U.S. Forest Service
3644 Avtech Parkway
Redding, CA 96002